The kitchen is so much more than merely a place to cook. It is the central hotspot for hosting dinner parties, socialising with friends and relaxing as a family at the end of the day. With this in mind, it is essential to create a space where you can truly call 'home', equipped with all of the essentials while incorporating a touch of personality. If you lack living space, then it may prove somewhat tricky to configure a kitchen that fits with all of your requirements. As opposed to moving home, many homeowners now opt for building a kitchen extension. Here we run through the plethora of fantastic benefits of enhancing your home through an extension.
Benefits Of Building A Kitchen Extension
Before going ahead with your decision, there are a number of points that you must consider in regards to your kitchen extension; these include:
Do I need planning permission?
How big should the extension be?
Are there any restrictions?
What company should I enlist to build the extension?
Should I be the project manager?
How would I like to decorate my extension?
Once you have answered all of the above questions, you can then begin to bring your vision to life. The planning and construction process can be lengthy; however, when complete, you can sit back, relax and reap the following benefits.
Practicality
There are a plethora of reasons as to why homeowners opt for building an extension; whether this may be to accommodate their growing family or merely to modernise their property. Either way, an extension is used to enhance a home, making it more practical for those living within.
When designing an extension, you are free to make your new space as small or large as you wish, based on your requirements and desired use of the room. It will allow you to free up a substantial amount of space elsewhere in the property, making your kitchen more spacious and improving functionality. For instance, if you have squeezed your dining table into your living room, this can now be moved to its own space in the extension. Therefore, giving you back your living room as a place for relaxation rather than an area where some family members are eating their dinner, while others are trying to watch their favourite programme. It enables you to keep rooms to their initial purpose, rather than trying to merge different rooms into one.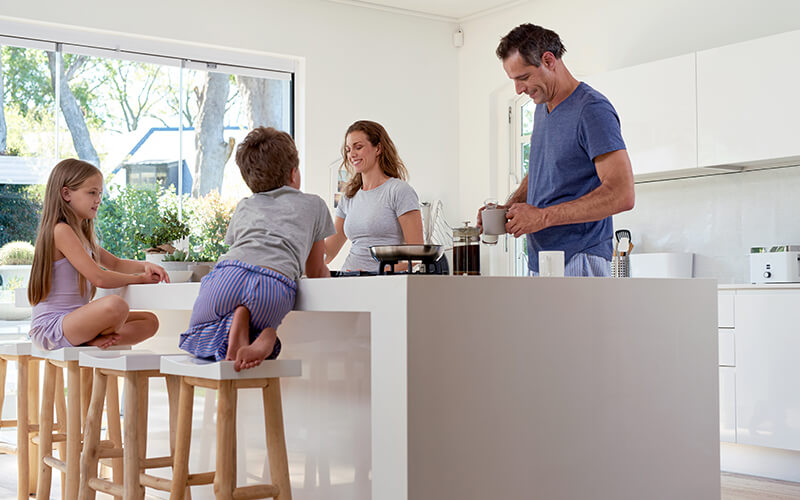 Aesthetics
Any property renovation, big or small, is ideal for improving the aesthetics of your home. Even the most luxurious properties become somewhat dull when you have lived there for many years, meaning that adding an extension will bring your home a well-needed new lease of life.
One of the most exciting parts of building a kitchen extension is choosing an interior design and quirky finishing touches. If you have always dreamed of a contemporary monochromatic colour palette or perhaps a vintage-inspired design alternative, your kitchen extension provides you with the perfect opportunity to get creative and experiment with themes. Some of the most popular design ideas for a kitchen extension include the following:
Not only can a kitchen extension improve aesthetics on the interior of your property, but also the exterior. When building an extension, it is your choice whether you opt for a space that blends seamlessly with your existing home or contrasts. Many homeowners with a traditional brick property design their extension in a modern black and white colour scheme to make a unique statement. Alternatively, you can also make it look as if the extension has always been part of your home by matching brickwork – the possibilities are endless!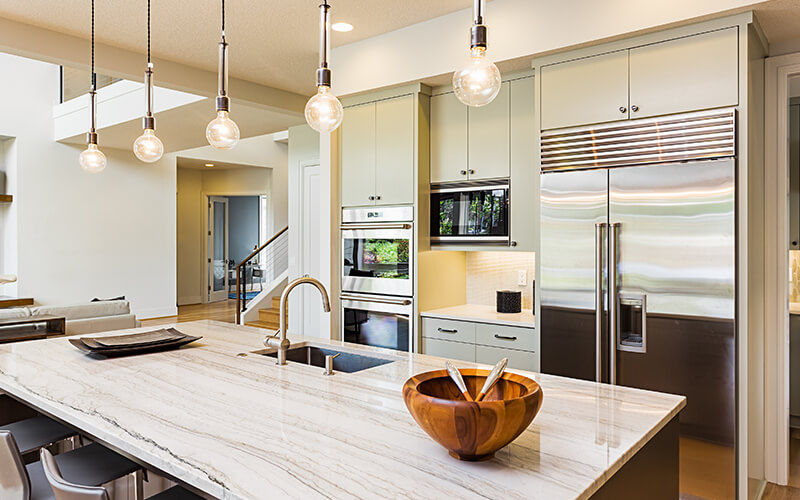 Ideal For Socialising
The kitchen is often seen as the heart of the home, making it the perfect hotspot for socialising. If you adore entertaining guests, yet are somewhat limited in terms of space, a kitchen extension will most definitely prove an incredibly worthwhile investment. It allows you to create a space that can be used to eat, catch-up and spend quality time together, both as a family and with guests. As the kitchen is always designed with easy-to-clean furniture and flooring, then it also means that you can enjoy having all of your loved ones around, without having to worry about cleaning any stubborn mess the next morning!
Having years of experience designing and building kitchen extensions in Milton Keynes and the surrounding areas, we understand how much it truly means to create a sociable space. We always create our extensions with the aim of bringing families together. Many of our clients confess that, while the primary purpose of their renovation is to enhance space, they would also like to revolve their new room around their loved ones. With busy schedules, especially as children begin their teenage years, it can be easy to go almost all day without spending time as a family. In creating a large-scale, social space, everyone will be encouraged to use the new room to their advantage, as opposed to shutting themselves away in their own rooms. For an extra touch, if you have enough room, fill the space with comfortable seating for a relaxing atmosphere.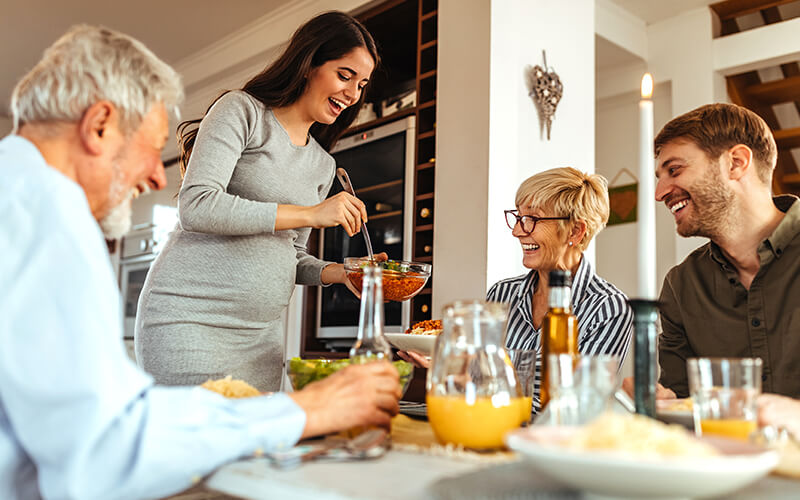 Customisable
One of the most significant advantages of building a kitchen extension is that every component can be tailored to fit your requirements. Whether you want to incorporate floor to ceiling windows to enhance natural light or revolve the design of your new space around a statement piece of furniture, all aspects can be designed to your needs. Every property is unique, as is every homeowner, which means that your extension can be created one-of-a-kind.
Here at Oliver James Design & Build, we are lucky enough to have our own in-house architect who strives to bring every client vision to life. We utilise our base designs, which have been custom-made using our technical knowledge, then incorporate all requirements that the client has asked for. For example, we recently completed a home extension in Milton Keynes for a client, who wanted to utilise the l-shaped design of their property to fill existing patio space. To tackle this, we opted for using our Wisley extension style as a foundation, then created the client's space around this. They also wanted to integrate a giant 4m x 2m roof lantern, which would allow tonnes of natural light to stream in, so we arranged for this to be custom-made for the client. Full details, along with stunning before and after photos of this project, can be found on our case studies.
Saves Money
With property prices continuing to skyrocket each year, it has now become harder than ever to upgrade to a bigger home. Particularly if you have a growing family, it doesn't take long before you begin to run out of living space. An overcrowded property can make it tricky to relax, meaning that you are left with two options – move home or make the most out of the space you have. With the rising property prices in mind, many homeowners are now opting to extend their home through an extension. Not only can a home extension enhance your living space, but it also comes alongside a significantly lower price tag than those associated with moving. Not to mention the hassle of packing your belongings, visiting potential properties and the legal side of moving that you will avoid.
Investing money into a home extension is also a proven way to increase your property value. According to Homes & Property, it is thought that an extension can add up to £59,000 to the value of your home. If you live in London, this figure is likely to rise to more than £169,000. This means that if you do opt for eventually moving home, you have more money in the cash pot for a larger property.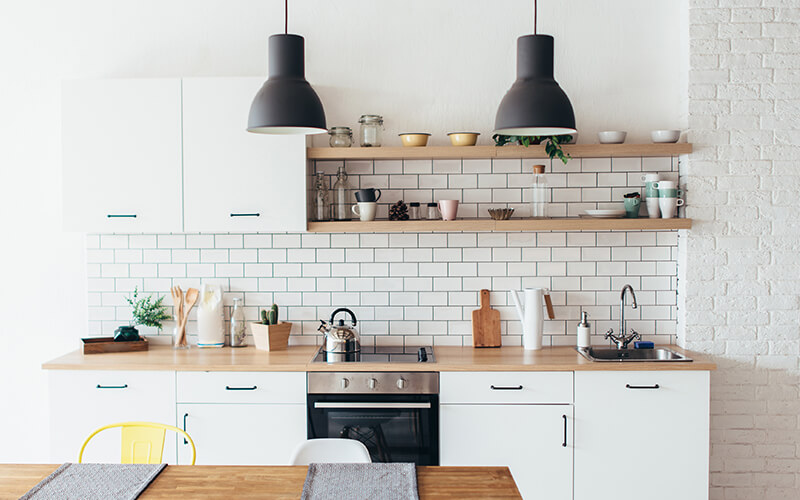 Enhanced Space
Although this has been briefly touched on throughout our article, the most significant benefit of building a kitchen extension, of course, is the ability to enhance living space. The size of your extension will be based on the amount of free space that you have available, along with how much of this space you are willing to sacrifice to provide an extra room. Due to the nature of modern extensions, they can now be built with an infinity threshold, meaning that the home and garden blend seamlessly together as one. In this case, giving up a large percentage of your garden wouldn't be as much of an issue because it will still feel as if you have plenty of outdoor space to enjoy. Your extension can also be equipped with large, floor to ceiling patio doors and windows, again, allowing the indoors and outdoors to flow as one.
Design Your Dream Kitchen Extension!
Opting to invest in a custom-built kitchen extension comes alongside a wealth of benefits to both your property and family. As every component can be explicitly tailored to fit with your lifestyle, requirements and interior design, you can create a space that is truly functional for your home. You can combine the practicality required for a kitchen with your own creativity to design the home of your dreams!