With house prices continuing to skyrocket each year, it has become more popular than ever for homeowners to work with the space they have as opposed to selling up. Whether your home is big or small, modern or traditional, there are a whole host of excellent ways that you can create more space by making the most out of your existing properties potential. This way, not only can you save a considerable amount of cash, but you can also avoid the hassle of packing up your life and starting fresh in a new location!
How To Create More Space In Your Home
Over the past few months, we have spent more time than ever in the comfort of our own homes. From working remotely to self-isolating from the outside world, for many of us, we've never quite had the opportunity to take a step back and think about how we can enhance the space that we have. Every home comes alongside an abundance of possibilities, and this is something that we have seen first hand through our many years of working with clients to transform their property. So, if you are beginning to outgrow your home, but want to avoid selling up and moving, we have put together a host of ideas on how to create more space, including the following: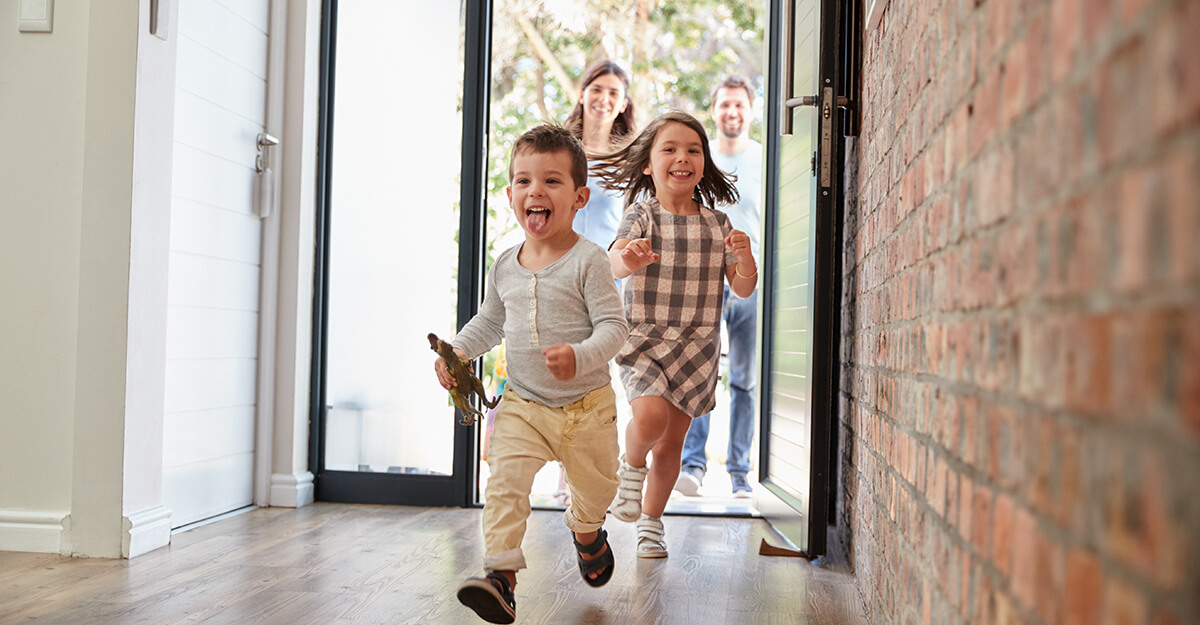 Helping homeowners to make the most out of their property is what we do best. However, one of the most frequent comments we receive from new clients is that although they would love a bright open plan space, they are limited in terms of garden space and budget. Many assume that to transform the ground floor of your property into one large space, you must extend out and sacrifice valuable outdoor land, but this most definitely doesn't have to be the case. It is possible to create an open plan living area merely by working with the rooms you already have, with no need to build an extension. This is absolutely perfect not only for those with tiny gardens, but it's also a great renovation solution on a budget.
Adopting the open plan living approach without an extension couldn't be more straightforward. The process will begin with removing the interior wall which separates, for example, your kitchen and lounge, making two small rooms into one ample, functional space. The exterior wall facing the garden is then complete with large bi-folding doors, which will allow a constant stream of sunlight to fill the room with natural light, instantly creating the illusion of an even bigger space. It is then your choice as to whether you choose to fit a new kitchen, dining area or living room; all of which will blend seamlessly with one another. Most of our lovely clients who opt for open plan living in Milton Keynes install a kitchen island to create a division between the kitchen and lounge, which makes for the ideal hotspot to socialise.
Switching to open plan living has become one of the most common home renovations amongst our clients here at Oliver James Design & Build, thanks to the wealth of benefits it comes alongside. We believe that by far the most favourable aspect is that an open plan space brings the family together, creating one big area where they can eat, rest and play, spending quality time with one another. It also adds value to your property which will work towards your advantage in the future should you ever choose to move on. For more benefits of open plan living, take a look at our previous article.
If you do have plenty of garden space, then, of course, building an extension would be the best way to create space without moving home. When designing a home extension, you definitely will not be short for inspiration, and every aspect of the build can be tailored to suit your style. The design will take into consideration factors such as your property type, along with your garden size and what you plan to use your new space for. This means that you do not necessarily need to stick to a square or rectangle space for your extension; it can be bespoke to accommodate your available space. A great example of this is a project we completed for Mr and Mrs Roberts, who enlisted our help to build their house extension in Milton Keynes. Their home was an L-shaped designed property, which meant that we used their existing patio space as the foundation for our design. You can find more information on this project over on our case study page.
When working with Oliver James Design & Build to transform your home with an extension, you can have peace of mind that every project is fully managed by professionals. From the initial architecture and planning to the finishing touches such as plumbing, electrics and plastering, every stage of the build will be completed by in-house experts. We also provide a range of products to complete your new space, including doors, windows and kitchen appliances. If you are interested in a home or kitchen extension in Buckingham and the surrounding areas, please do not hesitate to contact our team!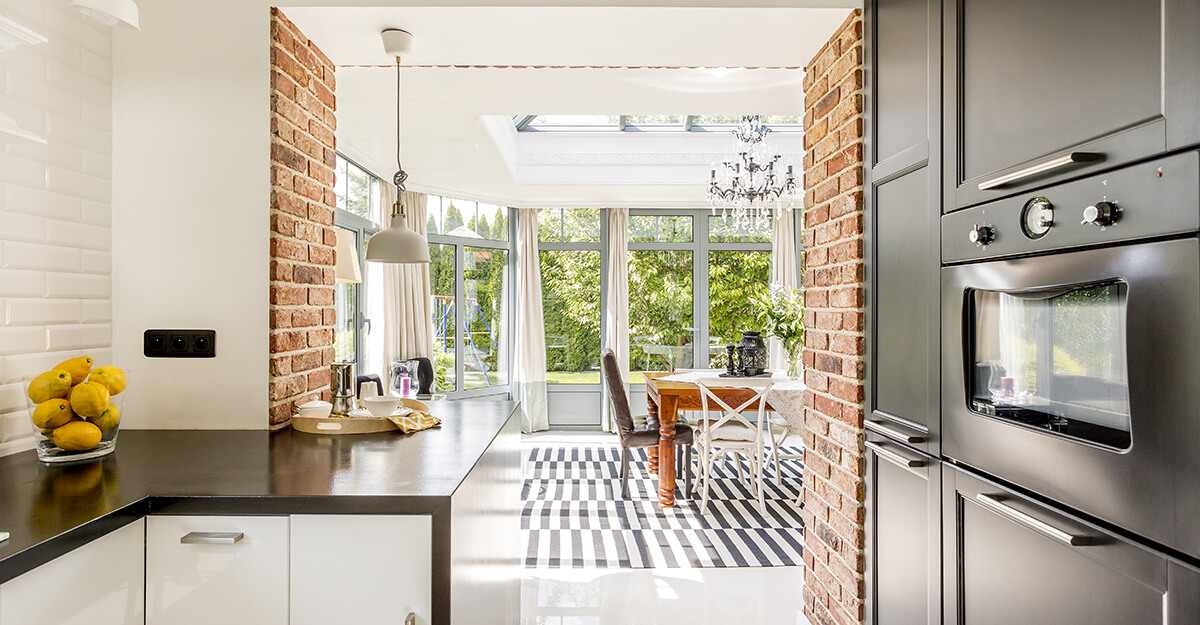 If you want an easy way to create more space in your home, along with something productive to keep you occupied during the lockdown, then spending time to declutter thoroughly would be a great solution. Especially if you have spent many years in your home, you would have undoubtedly accumulated your fair share of clutter which could most likely be thrown away or donated. The most common hotspots for a build-up of unwanted items include attics, wardrobes, garages and if you have one, basements; all places which are fantastic storage solutions for the majority of your belongings if used correctly.
When decluttering your home, we suggest tackling each room at a time, ensuring that the entire space has been thoroughly organised before moving onto the next. To make the process as straightforward as possible, create a sorting system which will allow you to organise your belongings by those that you will keep, throw away, donate or put into storage. If you are finding it tricky to determine whether to keep or get rid of items, consider using the 80/20 rule. Generally, we only use or wear 20% of our belongings 80% of the time, so if anything does not fall into this category, then it's likely that they are doing nothing but taking up valuable space. Together, these two methods should help to make decluttering your home and creating extra storage space as quick and easy as possible. For more tips on how to clear out your home, take a look at Budget Dumpster.
Using mirrors to create the illusion of more space is one of the best-kept secrets within the world of interior design. As they create a focal point, mirrors cleverly reflect both natural and artificial light around the space, adding depth to the room. This is the same concept when it comes to the colours of walls. Dark shades in a room absorb the light which means that it is prevented from circling around the space; whereas, much like mirrors, light coloured painted walls reflect the light, making the home appear bigger.
So, how can you decorate your space with mirrors without looking too OTT? Well, the most effective way to incorporate this handy design hack is to factor one large mirror into the layout of your room, whether it may be a lounge, bedroom or even kitchen. Although you are free to use a collection of small mirrors should you wish to do so, this may not create the illusion as well as you had hoped. Once you have chosen your style, you must then place the mirror strategically to ensure that it is nearby or across from a window. This will ensure that the mirror is always able to capture the light. Sonoma Magazine has put together a fantastic article on how you can use mirrors around the home to make rooms look larger, so it is worth a read!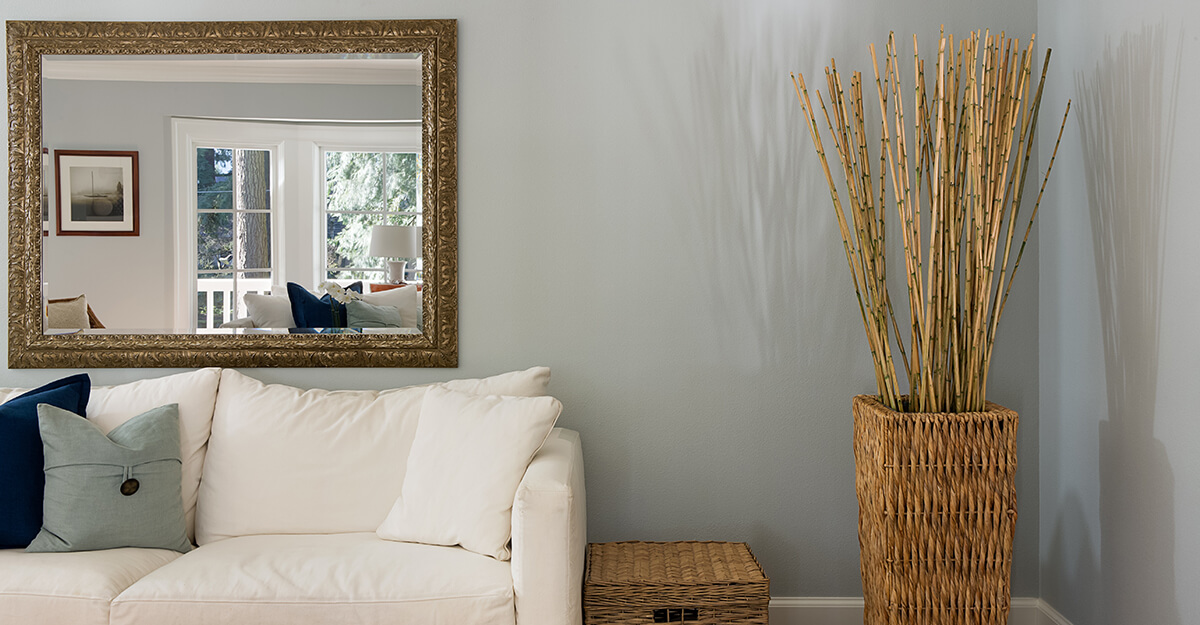 When you are limited in terms of space, furniture, unfortunately, is not always on your side. It can be incredibly tricky to track down essentials such as sofas, beds and wardrobes, which are big enough to live comfortably without leaving you with next to no living space. In this instance, multi-purpose furniture will become your best friend. Multi-purpose furniture, as you can guess from the name, is items which have more than one use, kind of like a 'two in one' solution, which means that you can cut down the number of bulky pieces of furniture you will need in your home. The concept was initially popular amongst those living in cramped, city apartments but has now grown to become a sought-after way to create more space.
There are absolutely hundreds of different versions of multi-purpose furniture to choose from with the following just to name a few:
Sofa Beds – By far, the most common multi-functional furniture type is sofa beds, which are fantastic if you regularly have guests to stay. The comfortable sofa can be transformed into a double bed with plenty of space in a matter of minutes by merely pulling on a tab. You can find a host of sofa beds in all manner of colours on the IKEA website.
Storage Ottoman – Whether you use your ottoman to put your feet up at the end of the day or as an extra seat for guests, it is always a stylish addition to your lounge. So, why not step it up a level and opt for a storage ottoman, which can be lifted up and used to tuck away anything from books to blankets?
End Table – If you do not have enough space to fit a coffee or bedside table, then not to worry, we have the perfect solution! An end table is designed to slide under your sofa or bed, providing you with a convenient, portable table for your belongings. It does not use up any floor space and can be purchased in an array of styles to match your interior design.
If you're looking for more inspiration on multi-purpose furniture that you can incorporate into your home, head over to Expert Home Tips!
One of the most common reasons as to why families choose to move home is simply down to the fact that they are running out of living space. As new members join and children grow, it becomes easy to run out of storage to hold all of the belongings that you own. However, have you ever considered thinking outside of the box and putting storage in less conventional places? There are a whole host of areas of your home which waste valuable space, so use this to your advantage. Once you have used our previous tips to declutter your home, decide whether you may benefit from one of the following clever storage solutions:
Shelves Along The Perimeter Of Walls – While you may have shelves all around your home, why not fit some just underneath your ceiling along with the perimeter of walls? These are ideal for items such as books, DVDs and CDs.
Under Bed Storage – You do not necessarily have to have a bed designed with built-in storage to make the most out of the wasted space underneath. Storage drawers equipped with wheels are perfect for sliding in and out of your bed.
Behind Door Storage – Although the majority of us have our dressing gowns hung behind the doors, it is also an excellent place for items such as shoes and jewellery. More ideas for behind door storage can be found on One Good Thing.
When looking for storage solutions, you most definitely will not be short for ideas. Take a look at Make Space for 53 great hacks!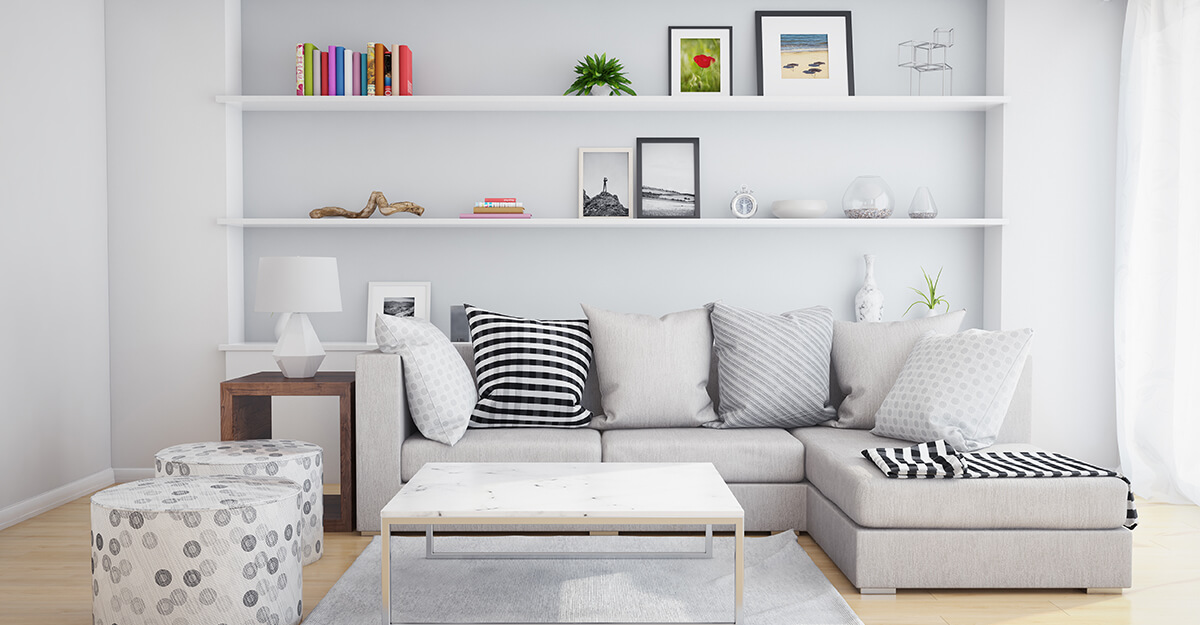 Same Home, Just A Little Added Living Space!
A home is filled with memories that are treasured for life, so why move when you can take advantage of the space you already have? Whether you want to transform your property with renovations or experiment with handy declutter and storage hacks, there is an abundance of ways that you can create more space without moving!