There is nothing more exciting than redecorating your home but with so many beautiful, modern interior design styles to choose from, how can you possibly shortlist your favourites? This is a common dilemma amongst our clients, and it can take time to determine the style that you adore the most. So, to lend you a helping hand, we have put together a guide to our favourite design trends that we have encountered over the years – we hope that you will be overflowing with inspiration by the end!
Modern Interior Design Styles That We Adore!
Having spent many years transforming the properties of clients through our home extensions in Milton Keynes, we have been lucky enough to see an abundance of wonderfully designed spaces. Whether you prefer a clean, minimalist appearance or hope to add a touch of personality through quirky decorations, you most definitely will not be short for options. And even better, it couldn't be easier to add your own unique twist to the most popular interior design styles, helping you to create your dream home. So, let's take a closer look at the following:
Transitional is a style that many are unfamiliar with, but if you're like most of us, it's likely that you will have a lightbulb moment once we begin explaining. As one of the most popular interior design trends, transitional creates the perfect balance between modern and traditional. It is ideal if you dream of incorporating a contemporary twist but do not want to miss out on the creature comforts of a traditional homely atmosphere. Fusing clean lines and texture with statement furnishings, the transitional style is often referred to as an 'updated classic', which we think is the perfect description!
To recreate a transitional design, the key is to stick to a neutral colour scheme while letting your furniture do the talking. For example, if you are planning to decorate a living room, then the focus will be on your sofas, which should be solid but plush, allowing you to snuggle up on the colder evenings. Wood is the ideal material for your furnishings, whether this may be a coffee table, cabinets or shelving; all of which would be complete with little ornaments, helping to maintain the contemporary feel. A touch of vibrancy can be added; however, we suggest limiting this to your cushions or throws, for instance.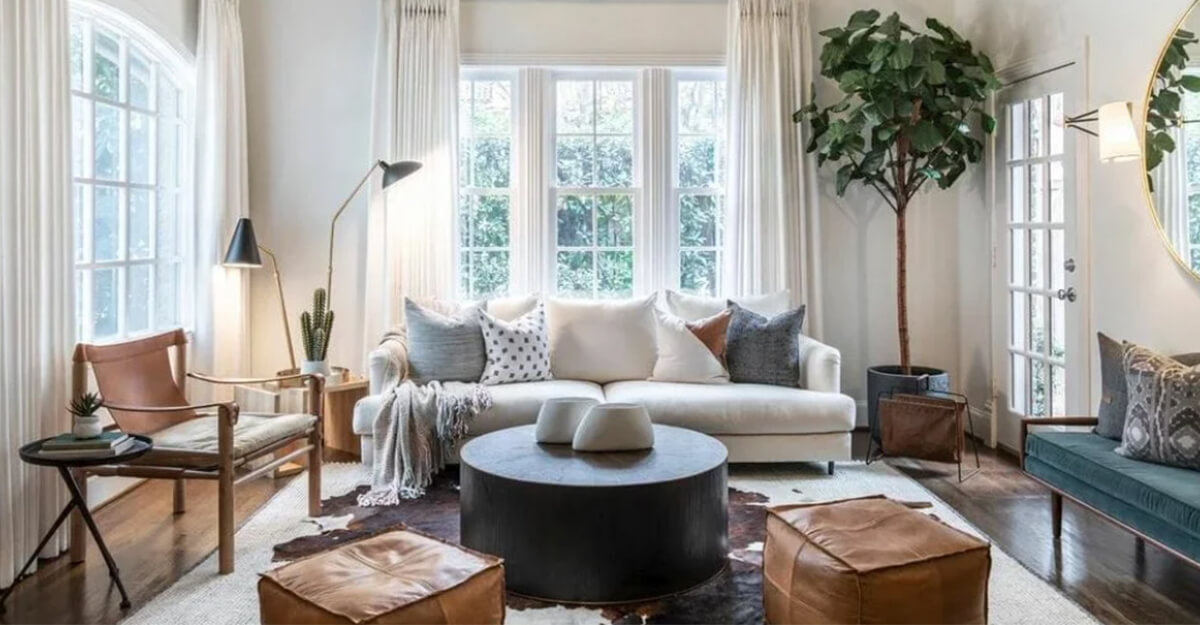 Photo Credit: Interior Design by Decorilla
If you are inspired by the minimalist, clean and airy interior design often seen in modern new build apartments, then the Scandinavian style trend would be the perfect option. Based on the simplicity of Nordic living, Scandinavian focuses on functionality, keeping the space bright through typically a white colour palette, complete with organic wood furniture. Think IKEA, who have by far become the best example of how understated yet beautiful Scandinavian interior design can be.
This trend is super popular amongst our clients interested in kitchen extensions in Milton Keynes as it allows to room to be based on complete practicality while looking tidy, organised and of course, stylish. Choosing a Scandinavian-inspired design for your kitchen makes it super easy to find units and appliances that fit within your scheme. White cabinets can create the foundation of your space, accompanied by wood worktops, aluminium appliances and small pops of colour through the finishing touches. Home Designing has put together a fantastic article with a whole host of stunning Scandinavian kitchen ideas.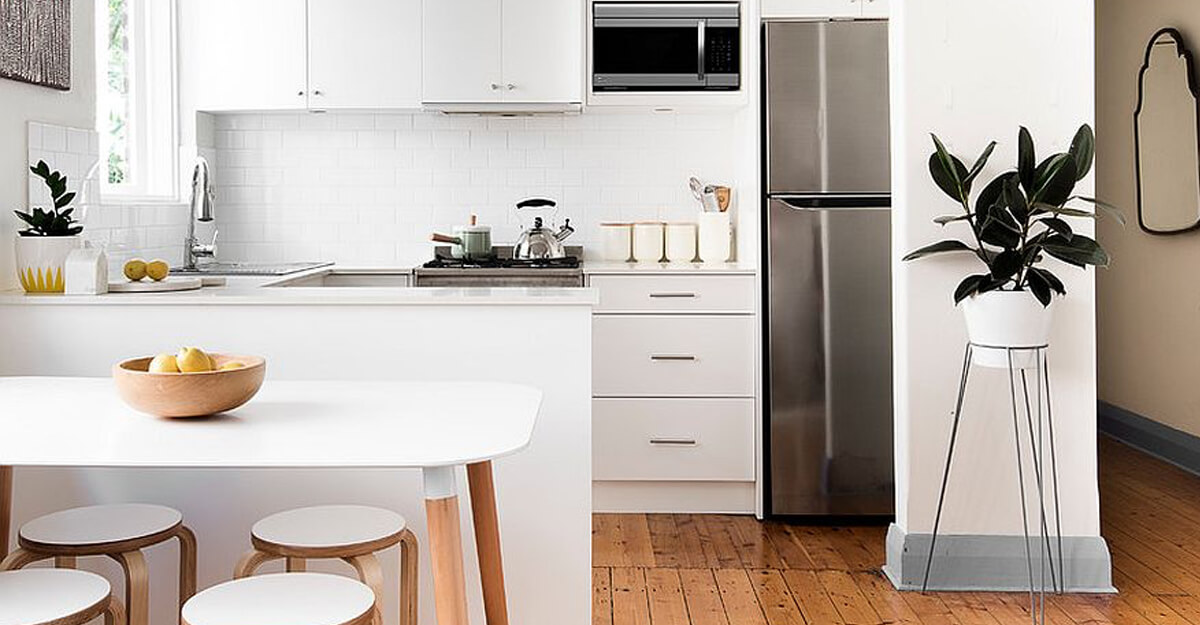 Photo Credit: Decoist
Although this may not be to everyone's tastes, an industrial style interior design completely nails the perfectly "undone" look. First popular after the second industrial revolution in the 20th century, this trend takes its inspiration from the many factories left behind after closure, which were transformed into residential properties. It focuses on leaving the areas that would usually be disguised, such as brickwork, beams and pipes, uncovered, adding character to the room. The aesthetics remain cosy, using colour palettes such as warm neutrals, including greys and browns, along with plenty of texture.
Due to the nature of remodelled factories and warehouses, the best room type for an industrial design is one which features an open plan layout. Whether you choose to adopt this style to design a kitchen that feeds into the living room or even a bedroom which incorporates a living room area, the possibilities are endless. If you are interested in taking this approach, then feel free to speak with our team about their expertise in open plan living in Milton Keynes. They would always be more than happy to walk you through options to unlock the full potential of your home.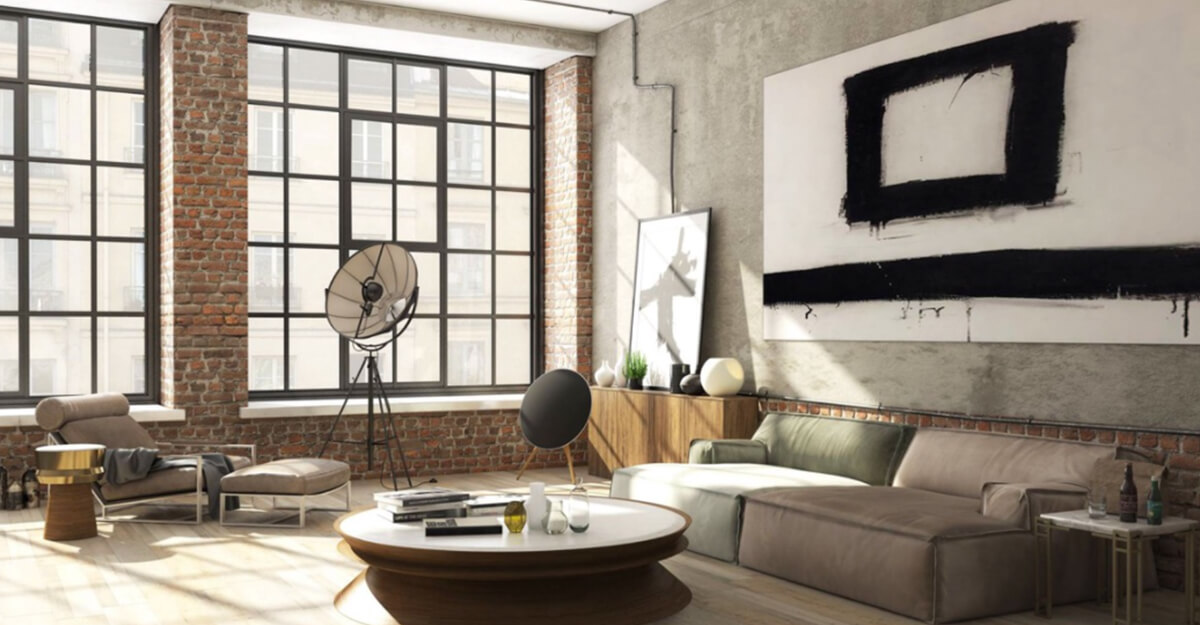 Photo Credit: Home Designing
For those with a carefree nature that love nothing more than thinking outside the box, the bohemian interior design style is ideal. There are little rules when it comes to the bohemian trend, allowing you to transform your home into a real expression of character. You can most definitely take a more eclectic approach to your interior design, combining patterns and colours from a wealth of cultures – think world travels and the quirky little ornaments that you may pick up along the way.
The beauty of the bohemian design style is that you can choose how mismatched or orderly you want to be; the key is to be individual. The most popular trends include animal prints, metallic accents and vintage, wooden furniture. And even better, its more than likely that you will be able to find all of the unique accessories and statement pieces for a super low cost at second-hand shops, car boot sales and antique stores. To complete your space, don't forget to incorporate touches of nature, whether this may be hanging baskets or large potted plants.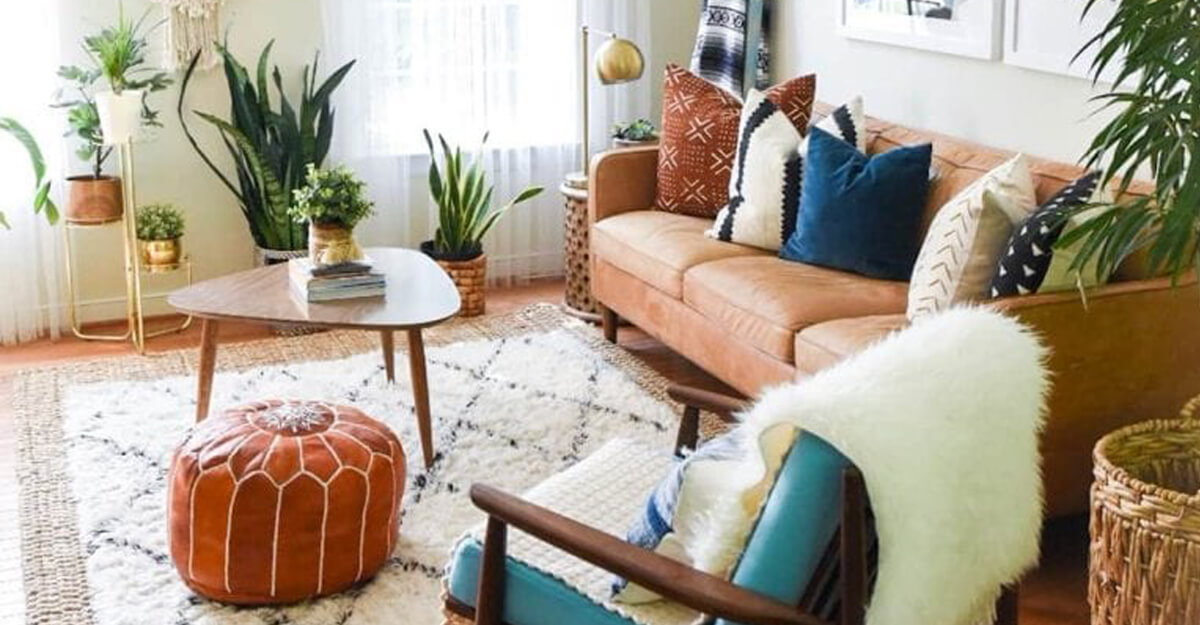 Photo Credit: Airtasker Blog
Beautiful particularly when incorporated into a kitchen design, the farmhouse interior style originates from the French Provence, using earthy colours and wooden furnishings to replicate the feel of a cottage in the countryside. It is perfect if you adore more of a traditional aesthetic but do not want to miss out on modernised touches. The foundations of designs are based on nature, whether this may be raw wood furniture or plants arrangements dotted around the room. For that contemporary touch, we suggest integrating a mix of metals, whether this may be gold or nickel.
The colour scheme for the farmhouse style is primarily neutral but with small pops of warm, cosy colours. Deep navy, burnt orange and sage green all make wonderful additions to your interior design. If you prefer more vibrant shades, on the other hand, then you could consider turquoise and pastel yellow. These colours can be incorporated in many different ways, such as through blankets in your bedroom design or porcelain dishes in your kitchen.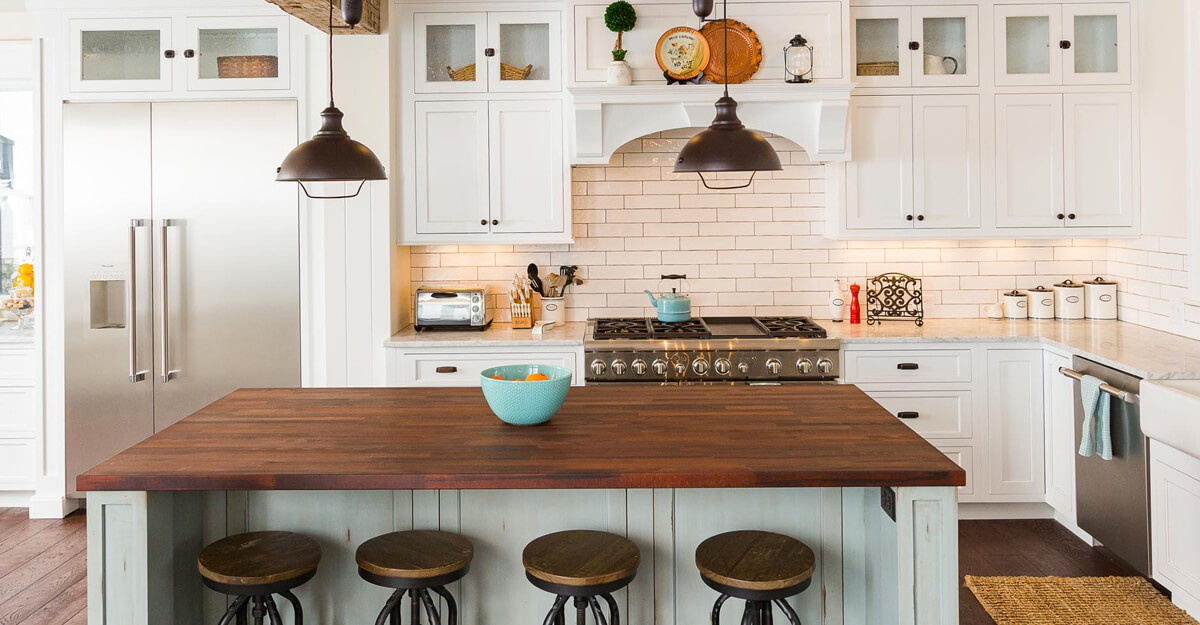 Photo Credit: Interior Design by Bauscher Construction
While most of our favourite interior design styles are on more of the contemporary side, we're going to introduce you to a modern-day take on a retro feel. The mid-century modern trend started its journey back in the 1950s overseas in America and is all about making your home a sociable but functional space. It features an array of striking colours, making rooms feel more playful and enticing, as opposed to simply space where you retreat to at the end of the day. This includes everything from darker neutral shades to intense accent colours, allowing you to completely tailor the space to your style.
When it comes to furnishing your mid-century modern interior design, think curved edges and simple compositions, typically in just one block colour without any patterns. It is through the finishing touches, on the other hand, that you can add character, whether this may be abstract rugs or statement light fixtures. If you're stuck for inspiration on how to pull together all of the elements of mid-century modern design, then we suggest taking a look at Lazy Loft's helpful article.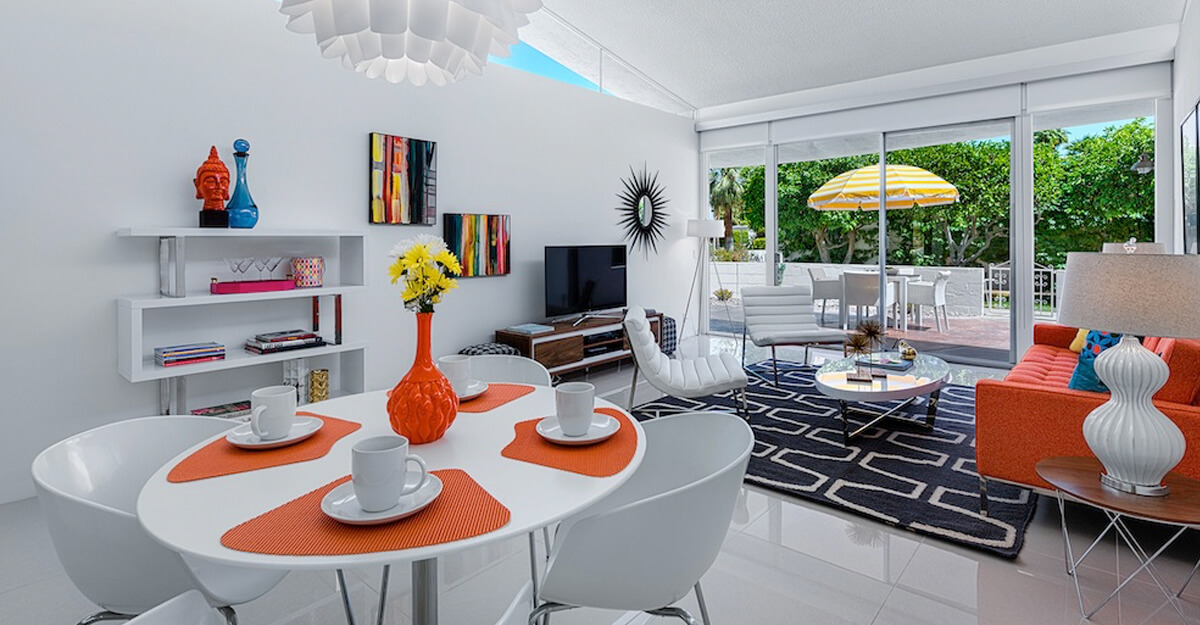 Photo Credit: Interior Design by H3K Design
If remaining simple and understated is not your thing, then we have you covered with our next interior design trend. The Hollywood glam style features everything luxurious and elegant, making it the perfect choice for those who adore making a real statement with their home. It fuses striking combinations of glossy surfaces, metallic accents and lavish fabrics to create a room fit for royalty. While the Hollywood glam design can be adapted to any room you wish, it is best suited to the living room, bedroom or dining room, as opposed to the kitchen, for example. Why? Because the key is to be dramatic, which can often be tricky when trying to balance with functionality and practicality.
The colour palette of a Hollywood glam room is often rich as opposed to minimalist with purple, blue and red all remaining popular for leaving a lasting impression. These all create an opulent atmosphere while allowing you to mix fabrics such as velvet. For the finishing touches, no Hollywood glam space is complete without a hint of sparkle, making crystals a staple in your decor design.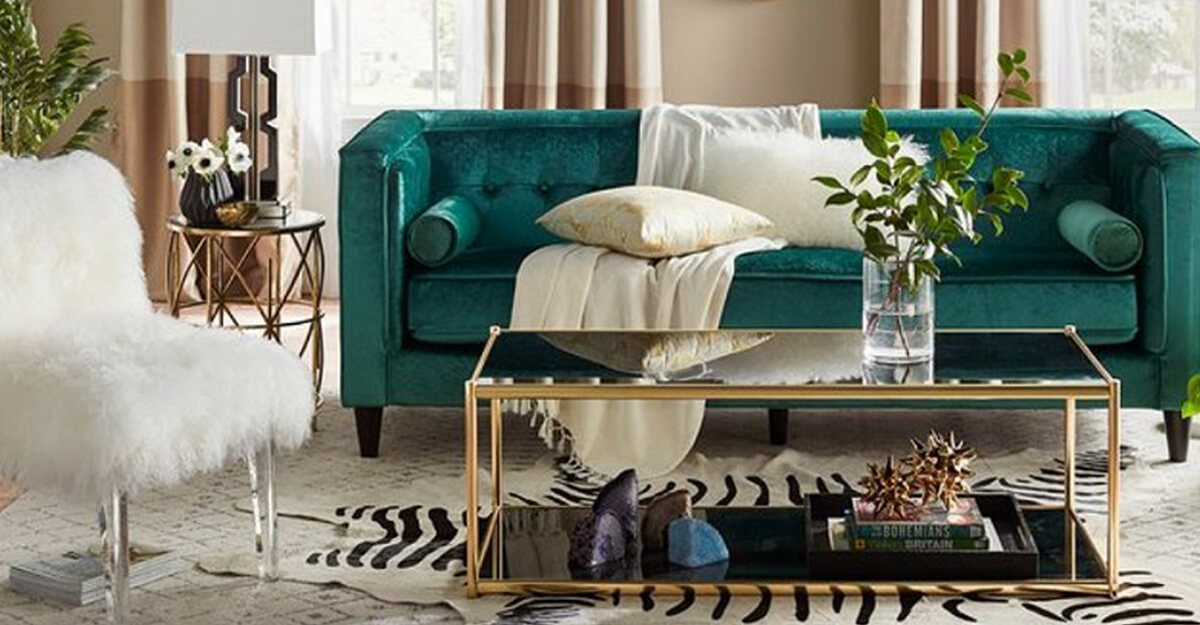 Photo Credit: Theme Room Ideas
Everyone dreams of a home that overlooks the beach, but not all of us are lucky enough to settle in a coastal location. Nevertheless, this most definitely doesn't mean that you cannot bring the tranquillity of the beach to your home by adopting a nautical interior design scheme. The nautical style is all about creating a bright and airy atmosphere filled with positivity, replicating the feel of a summers day. This means that the colour scheme is far more straightforward than our other style ideas, mainly focusing on white, mixed with sandy tones and shades of blue. The best way to balance each is through using the 60-30-10 colour rule, making white your primary colour, sand your secondary and blue as your accent shade.
The furniture in your nautical interior design should be based on comfort, whether this may be linen upholstery or plenty of plush cushions on the bed. Wood is the best-suited material for the larger furnishings; you can even choose to keep the natural tones of brown or take a more vintage approach with rustic white-painted wooden items.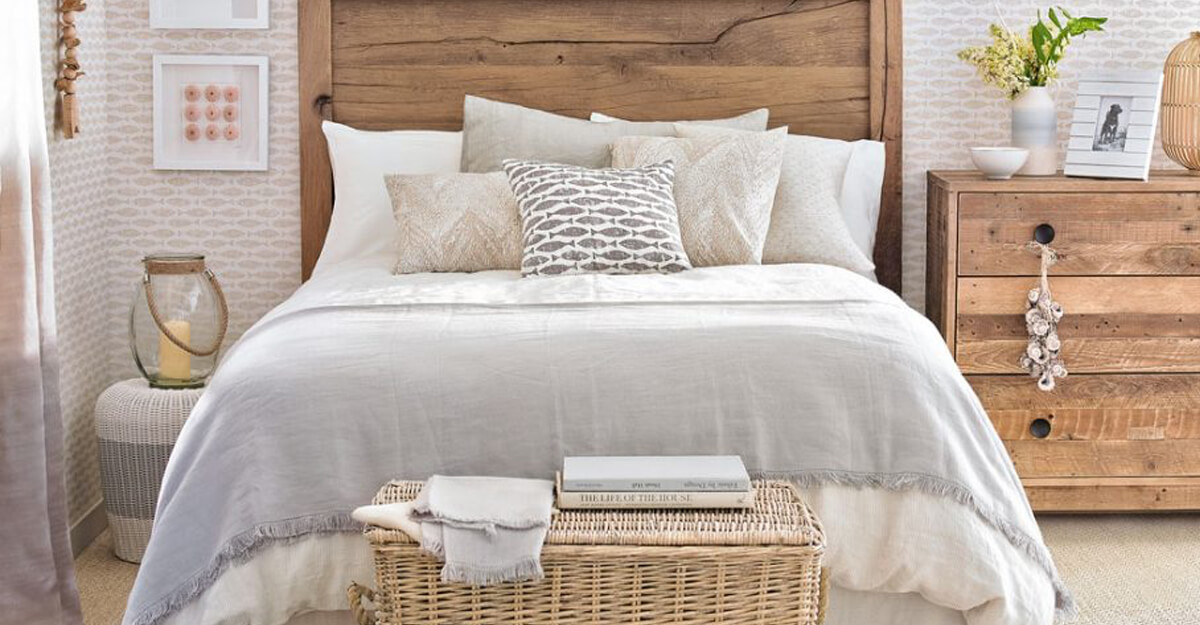 Photo Credit: Ideal Home
Finding The Perfect Interior Design For You!
Although redecorating your home or just one room, in fact, can be somewhat daunting, you most definitely will not be short for design inspiration. Our eight interior styles mentioned above are just some of the hundreds of possibilities, and there is no reason why you cannot combine elements of each to bring your vision to life. If you are in the process of planning renovations and interested in home extensions in Milton Keynes, then please do not hesitate to get in touch with our team. With many years of experience transforming the properties of our lovely clients, they have a wealth of knowledge on how to create the home that you have always dreamed of.