When your home starts to feel too cramped for the family, or you love your home but find the kitchen too small to socialise, an extension is the perfect home addition. There an abundance of advantages to adding an extension to your home, whether you are looking for a way to add much-needed space or add value onto your property before putting it onto the market. Regardless of your reasons for investing in an extension, it couldn't be easier for you to bring your vision to life with our expert and experienced team. As specialists in home extensions in Milton Keynes, we have perfected our stunning and modern extensions to provide you with a solution to your problems. To help aid your decision making and to understand why an extension is such a good option for smaller properties or those seeking a modern touch to their home, we have pieced together a few of the benefits you can take advantage of.
The Advantages Of Adding An Extension To Your Home
Apart from the design aspect of your extension, one thing that you will be thinking about when considering a new investment is whether it will provide you with additional benefits. Well, we're here to give you the good news, as there are various advantages that you can enjoy when having an extension built by our team. Through exceptional and reputable services, including design and installation, as well as the use of only the highest quality products, bringing your vision to life has just been made easy. The aim of your design should always be to provide the family with additional space that is modern while ensuring that your investment withstands the test of time. When working with our team, you can expect only the best products available, ensuring your extension is not only stunning but also durable. With this in mind, here are an array of benefits that you can enjoy with a home extension: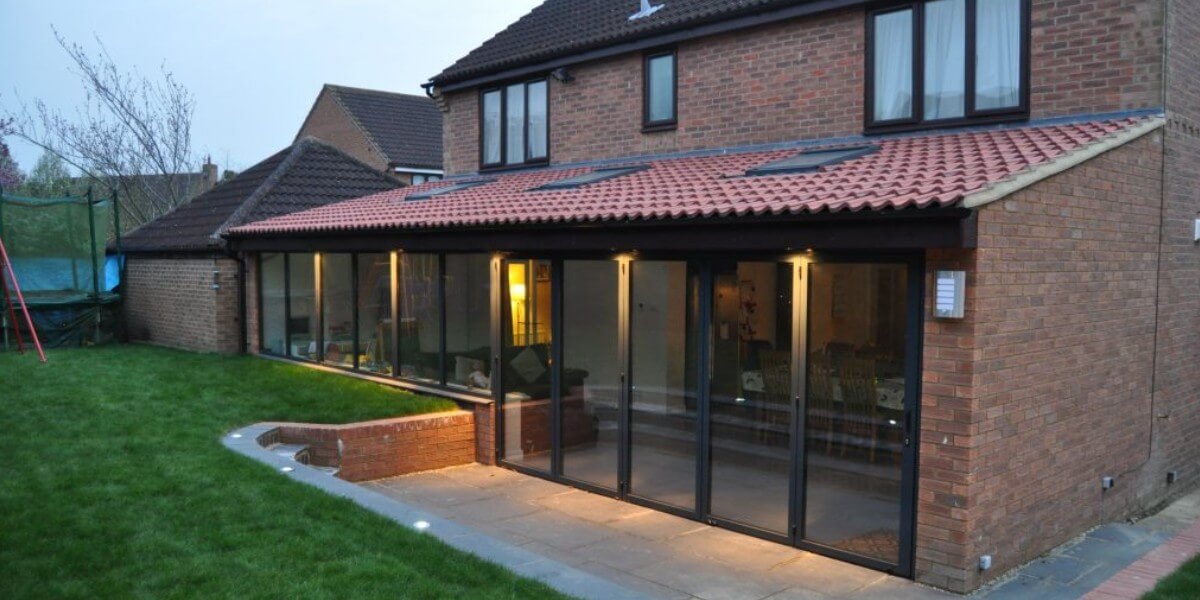 One of the primary reasons many clients of ours decide to have a home extension is to add space onto the property to enlarge their living room, incorporate a dining room or even extend the kitchen. It is a great way to add space onto the property while also allowing an abundance of light to enter the home through patio or bi-folding doors, and if you choose, the addition of a stunning bespoke lantern. Another concept that we love adding onto an extension design is open plan living, as this helps to open up the space you have, making it feel much bigger and brighter. Open plan living also allows you to incorporate more rooms without them feeling cluttered or claustrophobic, making it the perfect space for a kitchen and dining room looking out onto your beautiful garden all year round. If you would like to know more about how you can design open plan living in Milton Keynes and the surrounding areas, please feel free to get in contact with the team.
If you choose to add an extension onto your home, then depending on the size of your plans, you may be able to build under the permitted development rights act. This act allows you to build onto your home up to a certain size and only if the extension is single storey without planning permission. You must also determine whether your home is in a conservation area or graded, as this will also impact whether you will require planning permission. However, if you do require planning permission, then our team will always be more than happy to help when building your new home addition. Not only will we ensure that you are equipped with all of the paperwork and information required to increase chances of gaining planning permission, but our team will also help you submit your paperwork for a swift and stress-free experience.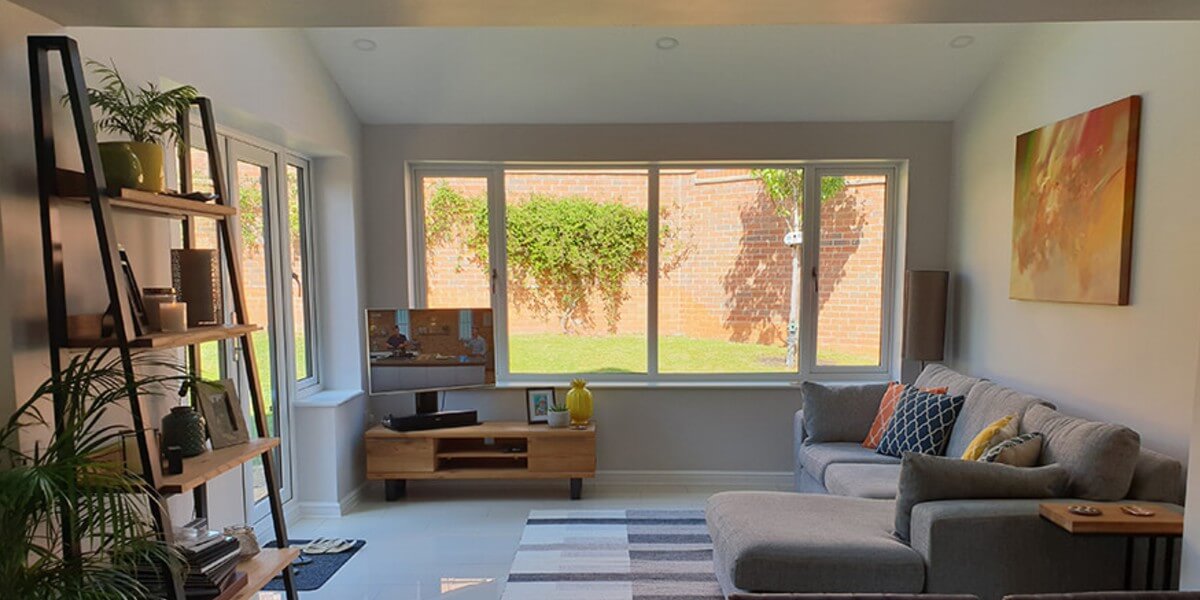 Every home has a unique aesthetic, and every homeowner has their own style preferences, meaning that while an Edwardian style extension may suit one home, a more modern touch will suit another. Luckily, when investing in new space though an extension, you can choose from a range of stunning design options to enhance your living space. These designs can also be tweaked and amended to suit you, ensuring that every aspect of your home extension fulfils your requirements. To help you piece together an idea of what style may best suit your needs, let's take a closer look at the six different designs we have to offer:
Orangery
For those looking to create a contemporary design with their extension, an orangery is the perfect home addition. This design provides a flat glass lantern to enhance the ceiling height, making the space feel bigger and allowing ample light to enter the property. Your roof lantern, or Velux windows depending on the style you choose, are beautifully accompanied by large windows and doors to enhance the spacious and airy feel that the orangery design creates.
Kew
One of the most popular extension types is the stunning Kew design, which is no surprise considering it has exceptional design features that enhance your property's aesthetic. The benefit of this style is that it offers a more coherent touch to your home, making the extension feel more intertwined and a part of the home compared to other styles. When inside the property, you will not be able to notice that an extension has been added, and your new home addition will fit seamlessly into the layout of your home.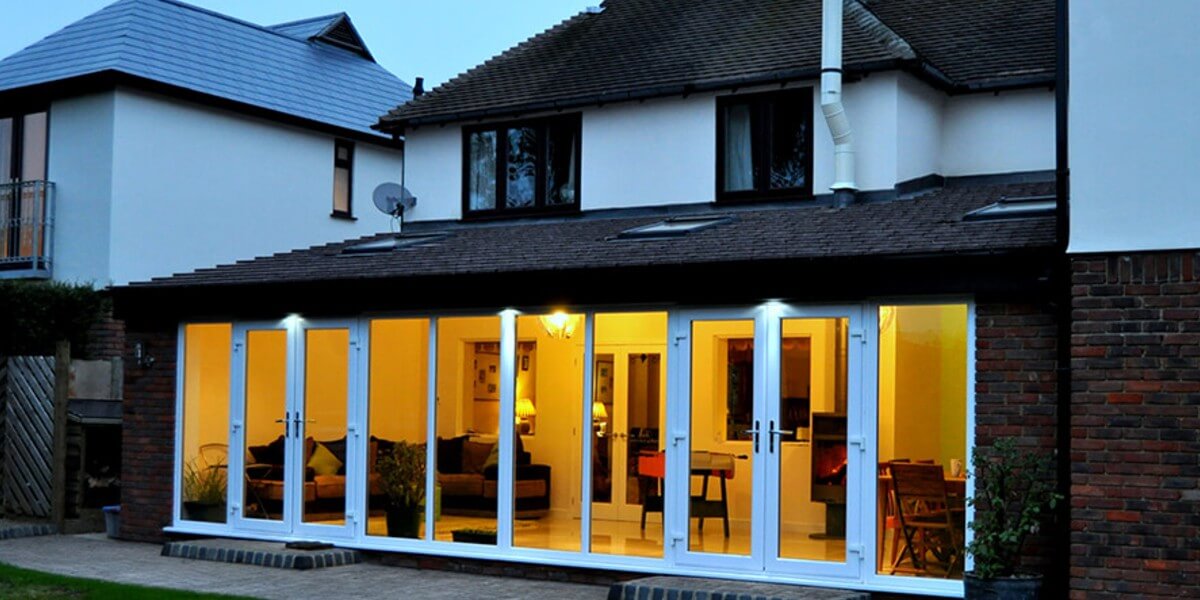 Rousham
If you wish to incorporate a spacious kitchen into your home extension, the Rousham design will be the best option. Not only does it allow you to incorporate ample space into your home, but it also provides you with a unique and eye-catching home extension. The Rousham design is also fully customisable and can be built in a range of sizes to suit most homes. While this design looks stunning as a contemporary addition, it is mainly recommended as a home addition for those with a detached property.
Eden
Many of our clients, particularly those with period homes, love incorporating a touch of character onto their property, and the Eden design is the perfect opportunity. An Eden extension offers a more traditional style with a touch of modern flair, completely tailored to your home. You can choose to incorporate Velux roofing into your Eden extension, which will allow natural light to enter the property, making it ideal for those with little space to work with. As discussed previously, this would be the perfect opportunity to incorporate open plan living to make the space feel much bigger.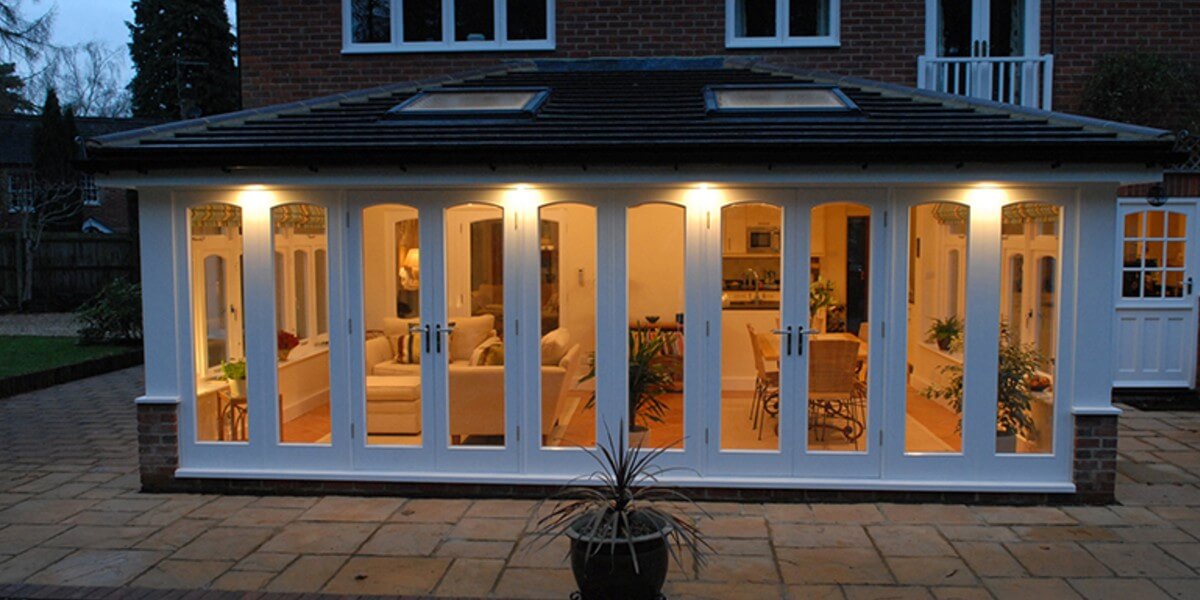 Wisley
Although you may have little space to work with, it doesn't mean that you are unable to add some more space and a stunning extension onto your home. If you struggle with space, then the Wisley extension is the perfect home addition as it is available in small sizes for those will little space around the property. This is a traditional style design incorporating stunning brickwork that matches your existing property materials, ensuring that you can create a seamless and breathtaking home addition.
Bespoke
If you have a vision in mind and would love to bring it to life, whether it takes advantage of natural lighting or incorporates a flush and modern roofing style, you can design your very own home extension with our bespoke services. Every aspect, from the interior to the exterior of your extension, can be completely customised and designed with our team, creating a unique home extension that is not only durable but beautiful and modern.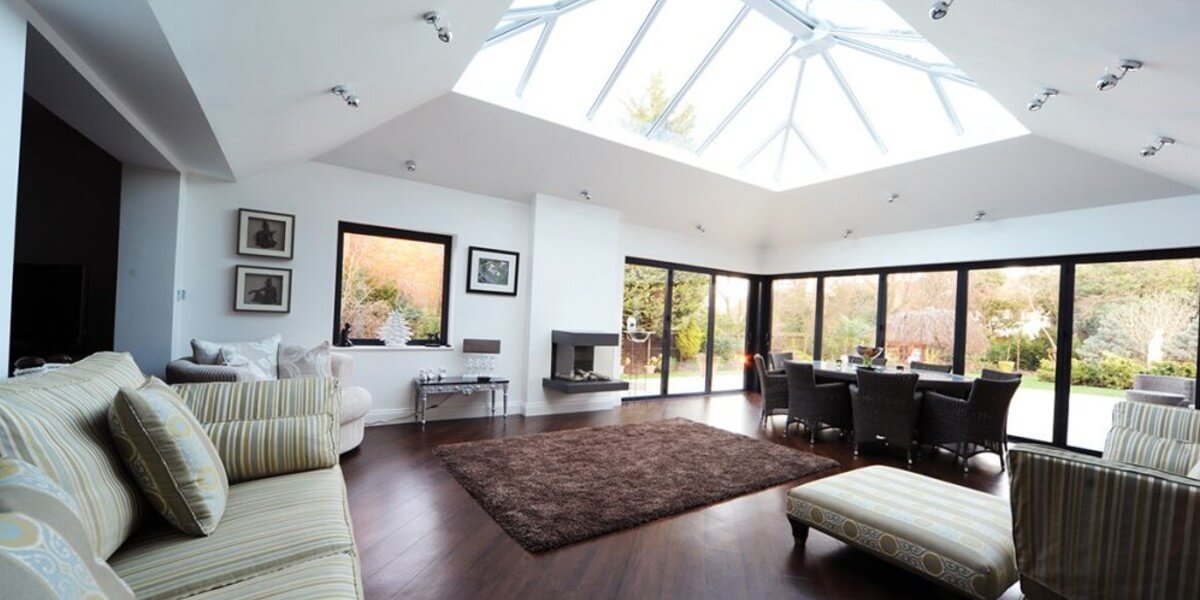 There are many rooms that you can incorporate into your home extension, but a popular choice is to extend the kitchen. Through a kitchen extension, you can choose to incorporate a dining area to enhance socialising, or simply to modernise your space and create more storage. Reputable companies such as Build My Kitchen can completely transform your new space with luxury products and designs, creating a space that completely epitomises your style and taste. When looking for kitchen extensions in Milton Keynes, we would highly recommend taking a look at the following sites for inspiration:
When designing your extension with the team, you are able to make decisions on layouts and plug socket placements, for example, to ensure that your kitchen extension looks flawless and stunning while maintaining functionality. When you have found the design you would like to incorporate or would like us to recommend a reputable kitchen designer, then our team can arrange for your kitchen installation to take place around the same time as your extension. This helps you to enjoy your new kitchen space as soon as our builders have left your property.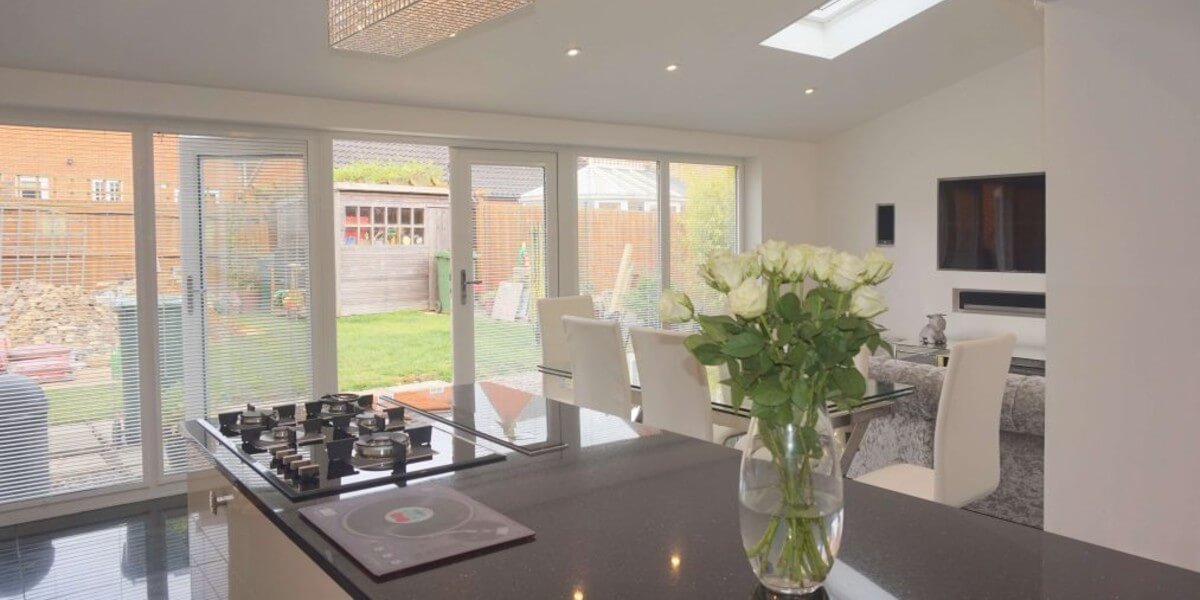 As mentioned above, there are various rooms that you can incorporate into your home extension, not just a luxury new kitchen. The best way to determine how you are going to use this space is to first gather your requirements. For example, if you find that your living room is too small and no longer allows the whole family to enjoy the relaxing space, then a home extension can allow you to create open plan living for a large living room. By understanding your need for a home extension, you can easily create a design that caters to these needs, from the plug socket arrangements to the doors and windows you incorporate. Some of our favourite room ideas for your extension include the following:
Living room
Playroom
Dining room
Study
Games room
One of the biggest benefits to adding an extension onto your home aside from incorporating additional space, is that it can add exceptional value onto your property. As a home increases in size, it ultimately increases in value, making a home extension the perfect option for those that do not want to sell up just yet, but have plans to in the next couple of yours. In fact, according to Homes & Property, an extension that adds 25 square metres onto your property, can provide you with an additional £59,000 on the property's value. This means that while it may seem like a large investment to make, you can reap the benefits of additional space while living in the property, and then get your money back and more when deciding to sell up. When you incorporate a new kitchen extension into your design, then you can further increase the value of your home by around 15%.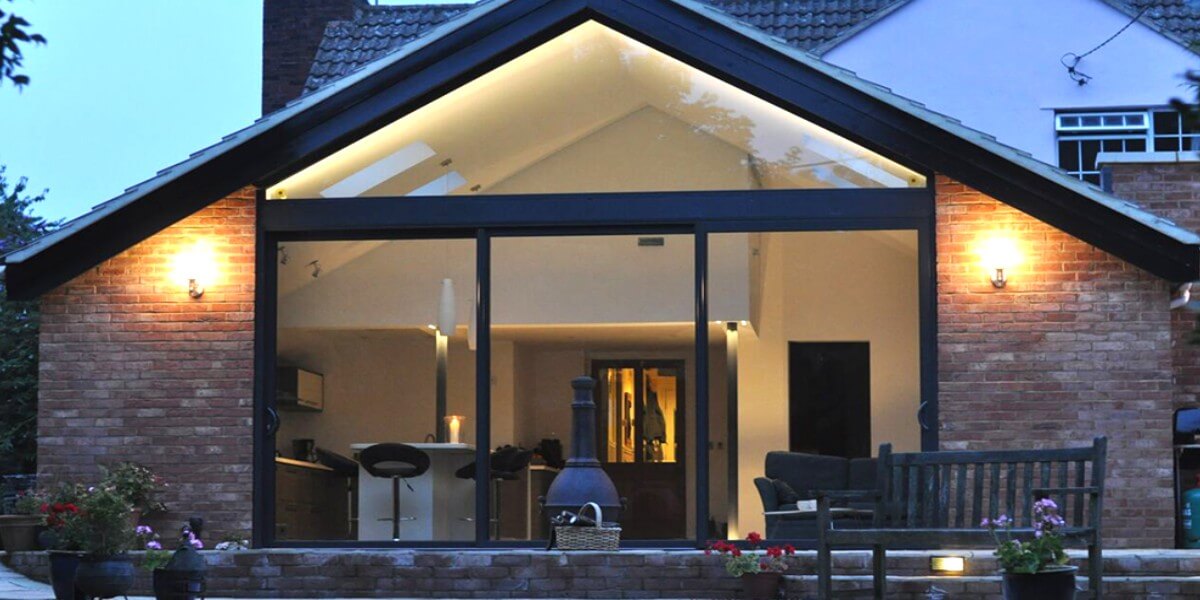 Enhance Comfort & Style
While there are many benefits that you can reap when designing your home extension with the team, the biggest benefit of them all is that you can create a fully bespoke space suited to your family. Whether you need more living space or a large kitchen for socialising, you can create a design that fits around your requirements while adding a modern and sophisticated touch to your home. If you have a vision in mind or would like further guidance with your options, then please feel free to discuss your ideas with the team!