There is no better way to transform your home, add property value and create the perfect space to relax as a family than to build a home extension. Not only does this worthwhile investment come alongside a wealth of benefits, but there also endless possibilities when brainstorming design ideas. To give you some inspiration, we have put together our favourite home interior design trends of 2021 to give you some food for thought!
Latest Interior Design Trends 2021: Our Top Picks
From an open plan kitchen to a cosy living room retreat, building a home extension comes with a plethora of opportunities. By taking a look at the latest interior design trends of 2021, it can give you some insight and inspiration to help you piece together your own extension decor ideas. Having worked in the renovation industry for many years transforming homes with stunning home extensions, we thought we would give you some inspiration by answering the following questions: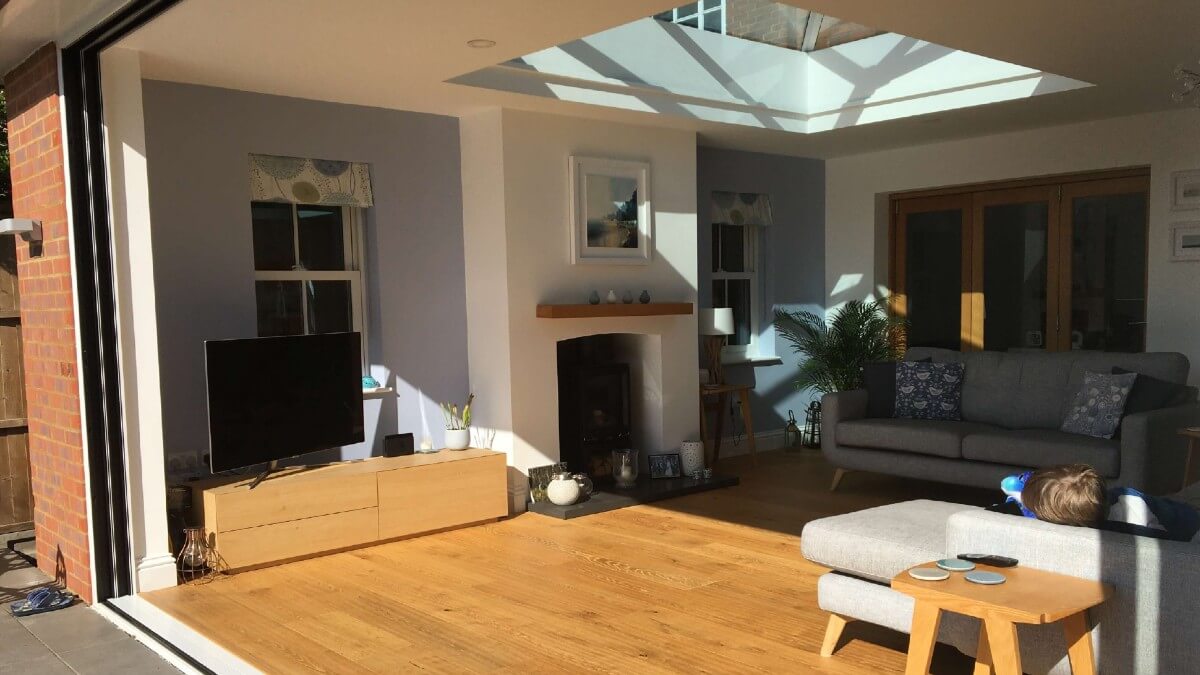 While the British sunshine may be in hibernation for a significant chunk of the year, when it does decide to show us some love, there is nothing better than relaxing in the garden with a BBQ and your favourite songs playing in the background. So if, like us, you adore nothing more than spending the long summer evenings outdoors, then opting for creating a seamless transition between your home and garden will most definitely strike your interest.
One of the most popular home extension trends amongst our clients is incorporating large-scale glazing into the design of their new space, which allows a clear opening to the outdoors. In fact, many even opt for replacing the entire back wall of their extension with, for example, aluminium sliding patio doors, which, when opened, creates an infinity threshold into the garden. This means that the flooring of the extension is flush with the patio, allowing the home and garden to become one.
Depending on the home extension type that you opt for, along with your available space, there is a vast range of door styles to choose from to achieve this trend. Sliding doors do tend to be the most sought-after option as when opened, panes fold compactly behind one another, meaning that homeowners will not need to sacrifice any of their indoor or outdoor space. However, if you have plenty of space to accommodate clearance for opening doors, then French and bi-folding styles also look super stylish against an extension.
A fantastic example of this is the Flat White garden room that we completed for Mr and Mrs Clarke, who live in Heath and Reach. Their small, traditional conservatory, which was inherited when they moved into the property, was transformed into a spacious area that combined the kitchen with the living room, featuring an entire glazed back wall. Head over to our case studies to find out more about this project and browse through some excellent before and after photos.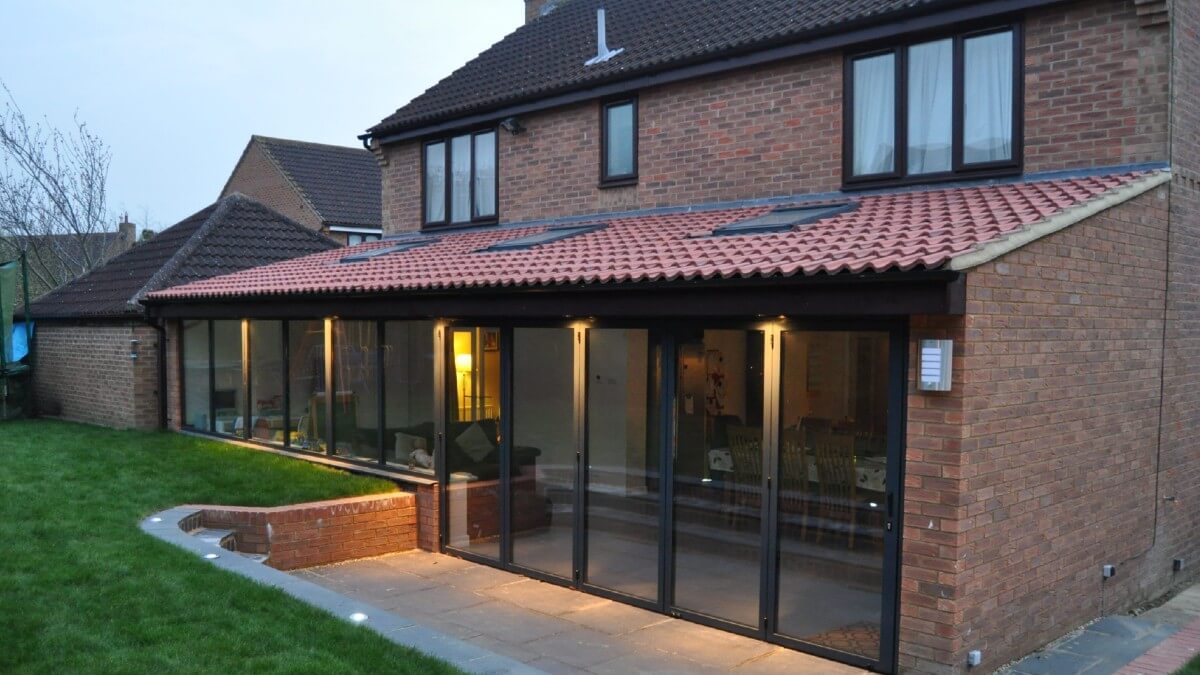 Open plan living has quickly become a staple trend amongst those hoping to take a modernised, contemporary approach to interior design. They are ideal for creating a spacious environment and come alongside a wealth of lifestyle benefits. Not only are they absolutely perfect for bringing the family together, encouraging each member to spend quality time with one another, but they are also excellent if you love to entertain guests. As opposed to being stuck in the kitchen cooking up a delicious meal while your guests socialise in the dining room, the two rooms come together as one, meaning that you'll never miss a moment. Moreover, if you were ever to sell up, then an open plan living area is a proven technique to boost your property value, guaranteed to leave a lasting impression on potential buyers.
When planning an open plan extension, you will most definitely not be short for design inspiration. You can either opt for a completely open plan space or incorporate small, yet functional partitions that allow everyone to see each other but with sections between the different rooms. Some great ways that you can do this include:
Glass sliding doors that divide the space into smaller zones, yet still allow plenty of natural light to stream through.
An L-shaped kitchen that features an island complete with stalls. This is also ideal if you want to tuck away equipment behind a corner that would otherwise make the room look cluttered.
If you are looking for a way to divide rooms temporarily, a sliding curtain would be ideal. You can find a host of ideas on how to do this on Homedit.
If you are interested in designing open plan living in Buckingham or the surrounding areas, then our team are just a phone call away to help modern your property and bring a new lease of life to your home.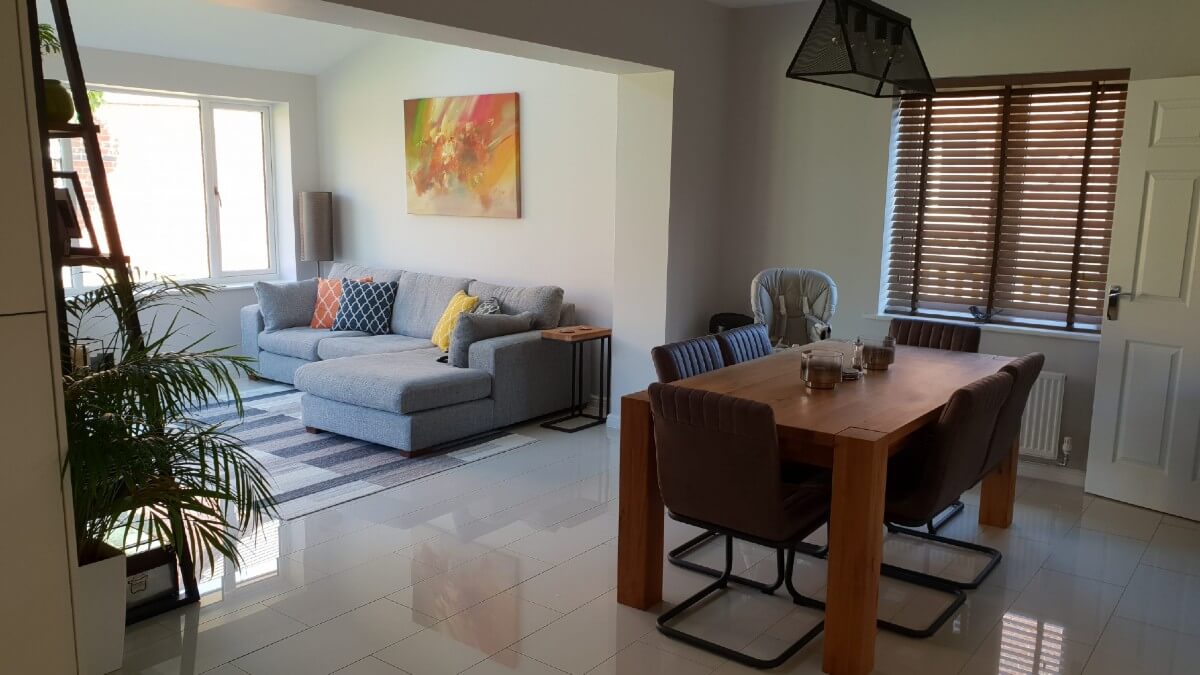 One of the most popular reasons homeowners opt for building an extension is to accommodate a larger, more spacious kitchen. And even better, much like when designing an open plan living space, there are tones of fantastic ideas on how you can make the space unique and personal to your family. This year, the biggest kitchen extension trend is designing an area that is revolved around ways in which you can create a family-friendly space where everyone can relax. They do say that food is the way to the heart, so what better way to unwind with your loved ones than in a stunning new kitchen?
When brainstorming ways to adopt the 'family-first' approach to your kitchen extensions, always ensure that seating is at the forefront of your layout. Depending on the size of your family and how often you invite guests, this may be just one dining table or several comfortable alternatives. We love the idea of incorporating flexible living into your space, which means that every aspect of your kitchen will be based on ways that your family can flexibly complete almost every task from one room alone. To do this, we suggest focusing on components such as storage, seating areas and workstations. You could even consider combining all three by fitting a breakfast bar or island unit, which will be equipped with cupboards, a workstation on top and stalls for seating. Take a look at Country Living for 70 of the best kitchen island ideas; we promise that there will be something to meet everyone's taste!
If you're interested in transforming your home with a kitchen extension in Milton Keynes or any of the surrounding areas, then please do not hesitate to contact our team! Every project is fully managed by our team, which means that each stage from the initial design to the finishing touches such as kitchen appliances, is completed to the same high standard.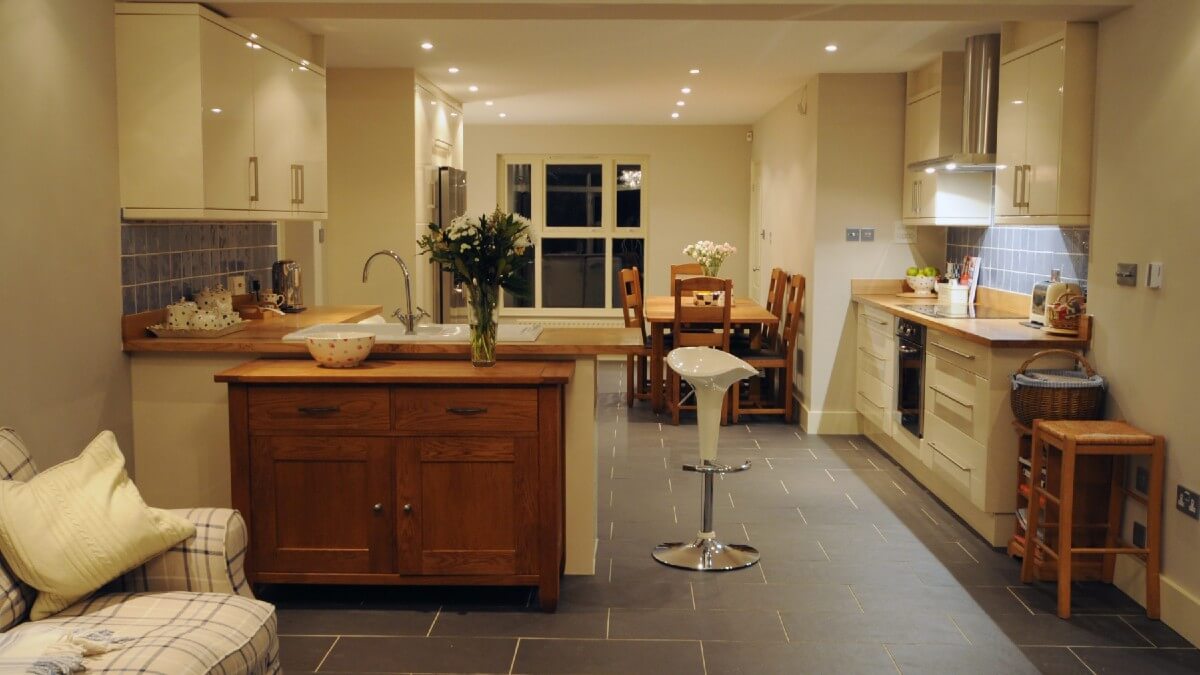 There is no better way to create the illusion of a larger, brighter and airier space than through maximising your windows. So, when planning your home extension, why not go the extra mile and incorporate large-scale roof lights? Roof lights not only look simply stunning, but they also allow a constant stream of sunlight to filter through your home, creating a spacious atmosphere. While their primary purpose is to enhance natural light throughout the day, they are particularly enchanting in the evening when you can sit back and stargaze from the comfort of your home.
When considering installing home extension windows, there are an array of roof styles that you can choose from depending on the aesthetics of your property. While flat or domed windows remain the most popular, for those hoping to add a focal point, a roof lantern would be perfect. We once completed a home extension in Milton Keynes for the lovely Mr and Mrs Roberts who opted for completing their build with a custom-made 4m x 2m roof lantern. The lantern was one of the biggest we had ever worked with, and while it required a crane to install, it was most definitely worth the extra steps. We most definitely recommend taking a look at our case studies to see the incredible before and after photos from this project – the finished build is simply breathtaking!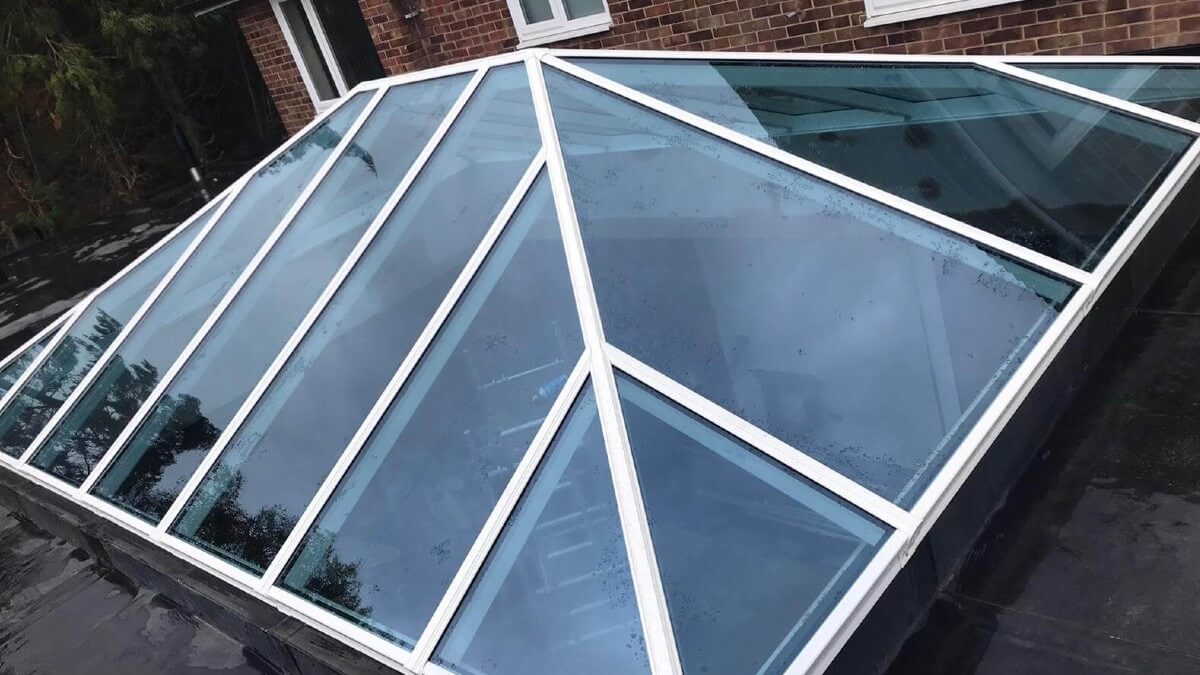 If you already have a home extension and hope to upgrade the appearance, then a super-easy way to breathe a new lease of life into your space is by experimenting with layering. The beauty of layering is that you are not limited in terms of colour, which means that you can stick to the colour scheme you already have in place or trial something a little bolder. If you have a soft spot for neutrals, which we must admit, we do too, then layering different textures of similar shapes is a fantastic way to add an extra touch of cosiness to your extension.
When opting for adding layers, colours and textures to your interior design, it is vital to plan carefully, as it can be easy to go overboard, making the space look somewhat cluttered. We always suggest sticking to a strict colour scheme, whether this may be white combined with two primary colours or a neutral palette, as mentioned previously. Below we have put together some of the key layering categories that you can choose from: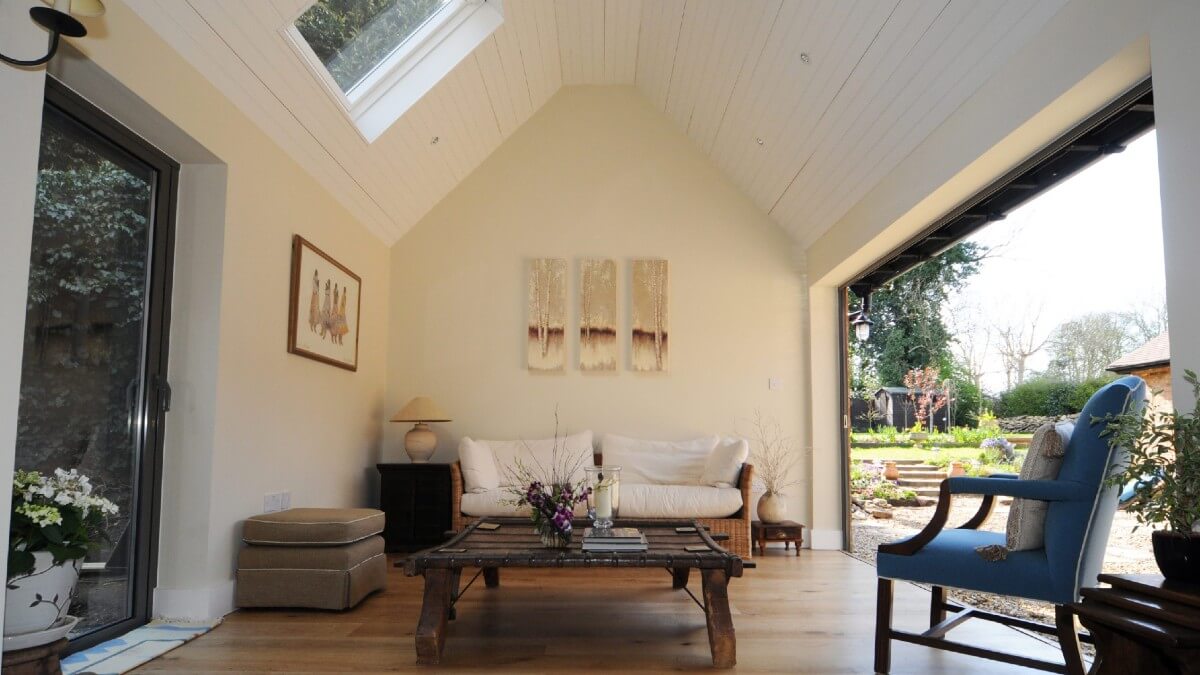 Transform Your Property With A Stunning Home Extension
There really are endless possibilities when designing a home extension, whether you are building from scratch or hoping to upgrade your existing space. Sites such as Real Homes and Elle Decor are continuously updating their blogs with the most recent trends, which means that you'll most definitely never be stuck for inspiration!
If you are interested in enhancing your living space through a home extension in Buckingham or any of the surrounding areas, then the team at Oliver James Design & Build are just a phone call away. With years of experience and a passion for project perfection, you can have peace of mind that your vision will be brought to life and more!