Decorating is most definitely one of the most exciting perks of being a homeowner. It gives you the perfect opportunity to get creative and add a touch of personality to each room. When it comes to the kitchen, however, many assume that interior design ideas are somewhat limited to plain monochrome palettes and minimal decor to keep the space looking tidy, but this doesn't have to be the case. The kitchen is the heart of the home, so it deserves just as much vibrancy as every other room. To give you inspiration on where to begin, we have put together a guide on finding the perfect kitchen colour schemes!
Kitchen Colour Schemes To Inspire Your Renovations
Having helped clients to transform their home with kitchen extensions in Milton Keynes for many years, we have been lucky enough to see hundreds of beautiful interior design ideas. From contemporary minimalist designs to those filled with colour, there really are no limitations when considering the aesthetics of your ideal space. The key to creating a kitchen that is adored by all of the family is to spend time determining the best-suited colour scheme. Your chosen colour combination will be the foundation of your kitchen, making every other step a breeze.
If you are new to designing kitchens or in need of some renovation inspiration, then we are here to help!
Jump Straight To: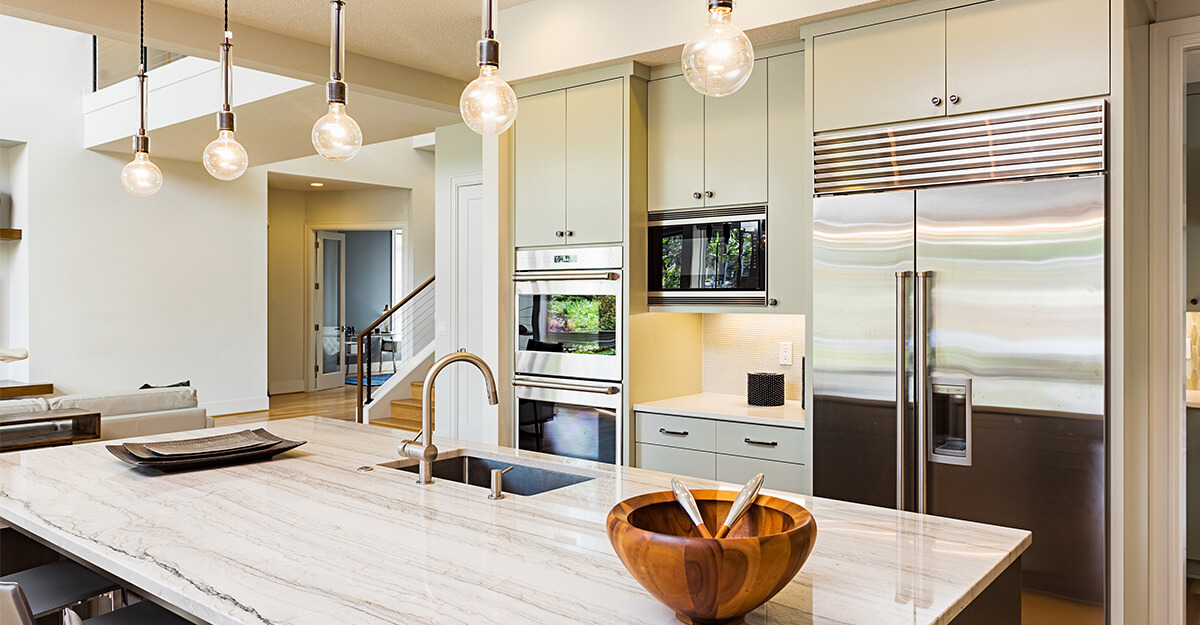 Before diving into an array of ideas, it is first important to establish an understanding of how to create the perfect colour palette. From the ideal combinations to considerations, we have pieced together a host of colour scheme tips to keep in mind before formulating your cabinet colours.
So, first things first, before we can delve into putting together your ideal colour combinations, it is vital to familiarise yourself with the concept that will ensure your chosen shades work in harmony with one another. This will help you to understand why particular colours are complementary and why others clash. Although this may sound complicated, we promise that it is considerably more straightforward than it sounds!
Every colour scheme is based on one essential tool – the colour wheel. The colour wheel is designed to organise colours based on their relationship with one another. While colour wheels may look slightly different, they will always follow the same pattern, featuring the three main colour categories. These are:
Primary Colours – Red, green and blue are the only three primary colours as they cannot be created by mixing other colours together.
Secondary Colours – Purple, orange and green are secondary colours; these are made through mixing two primary colours.
Tertiary Colours – Any colour not mentioned above are known as tertiary colours and are created through mixing primary with secondary colours.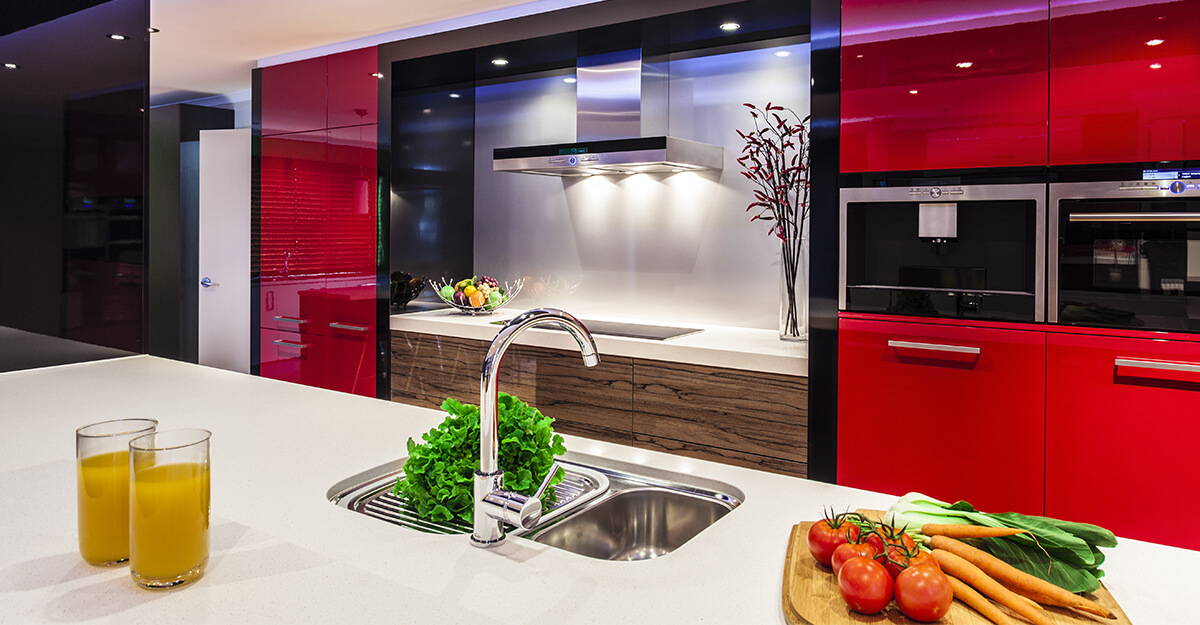 Next comes colour palettes, which are used to define which colour combinations work together. There are five categories of colour palettes, and it is always recommended to choose just one of these as the foundation for designing your kitchen. The colour palettes are as follows:
Monochromatic
Many assume that the term monochrome only refers to a black, white and grey scheme, but this isn't actually the case. Monochromatic simply refers to a palette that features several shades of the same base colour. It is commonly used in kitchen designs as it is the most subtle option.
Complementary
A complementary colour palette offers a more vibrant aesthetic as it is based on colours opposite each other on the colour wheel. As the colours will always be contrasting, they will instantly become brighter.
Analogous
If you like the idea of a monochromatic palette but looking for something a little bolder, then analogous would be the best route. It is based on colours that sit side by side on the colour wheel, meaning it can be a different version of the same colour or those that are similar in tone.
Triadic
Grouping together colours evenly spaced from one another on the colour wheel is known as a triadic palette. This option is only possible with just three colours, hence the name triadic. Similar to complementary, as the triadic palette means that you will be choosing three completely different colours, it is a bolder choice.
Tetradic
Last is a tetradic palette, which follows the same concept as triadic but with four colours instead. This palette can be one of the trickiest to achieve without your kitchen becoming overwhelming, so we suggest picking one main colour and using the rest for finishing touches.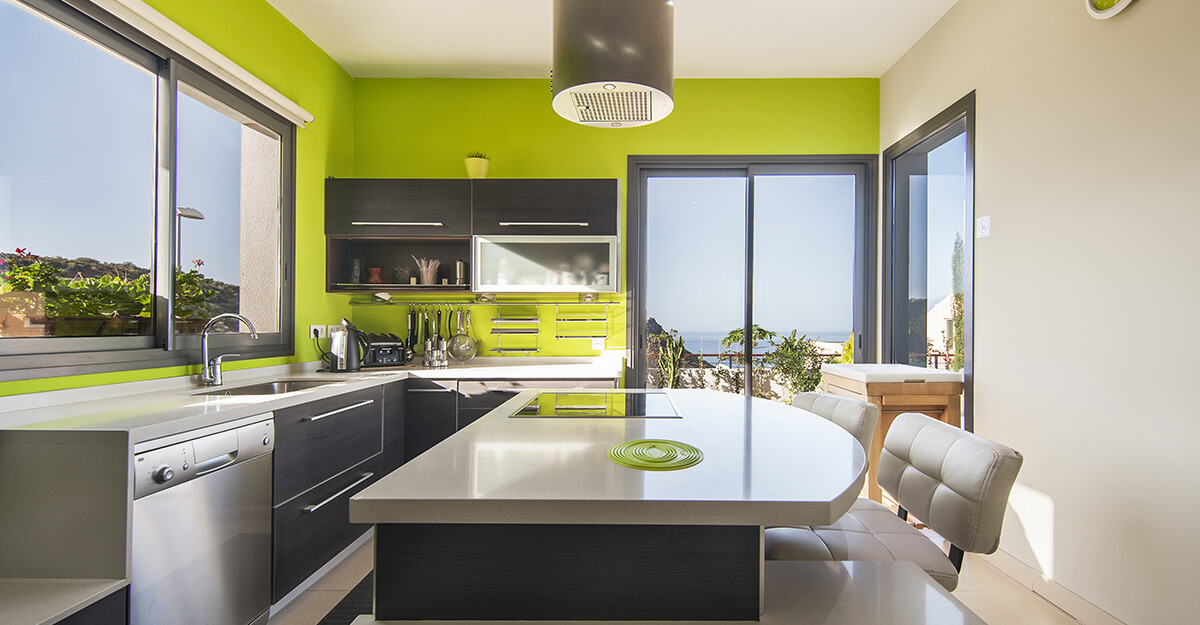 Although you may be familiarised with how to pair colours, the trickiest part is yet to come – it is now time to shortlist the colours that you like the most. One of the easiest ways to begin determining options is to consider colour connotations. While it may not always be recognised, the colour of a room can have a significant impact on your emotions, which means that choosing wisely is imperative. For example, red has split symbolisms. On the one hand, it is seen as the colour of danger, fire and violence, whereas on the other, it can also represent love. In contrast, if you were to consider the colour blue, the instant thought is feelings of calmness and tranquillity. More information on the meaning of different colours can be found on Smashing Magazine.
As the kitchen can mean something different to every homeowner, choosing colours will be based on your most common use of the space. For instance, if you have an open plan kitchen diner that you often use for socialising, then a more vibrant palette would be ideal. Whereas, if you use your kitchen for cooking only, then a muted scheme may be better-suited as it can be used as an area to unwind while you prepare meals. Reno Guide has put together a fantastic article on timeless kitchen colour schemes for inspiration.
Once you have chosen the perfect colour combination and palette, you can now finally begin bringing your vision to life. Even with a set palette in mind, it can be a little tricky to ensure that each colour is correctly balanced. To help with this, we recommend using colour rules from interior designers to your advantage.
The most straightforward colour rule to follow is the 60-30-10 sequence, which is designed to add depth to a room without making the space too overpowering with colour. In other words, through using this colour rule, you can not only avoid making your kitchen look too mismatched but also too matchy-matchy. To follow the 60-30-10 rule, always start with the main colour that you want to use in your kitchen; this will be used for 60% of the room, such as the wall space and main furnishings. Your secondary colour will then cover 30% of the room, being used for areas like the worktops, dining chairs or cupboards. Lastly is the accent colour, used for 10% of the kitchen, for example, the kettle, toaster and accessories. It really is as easy as that!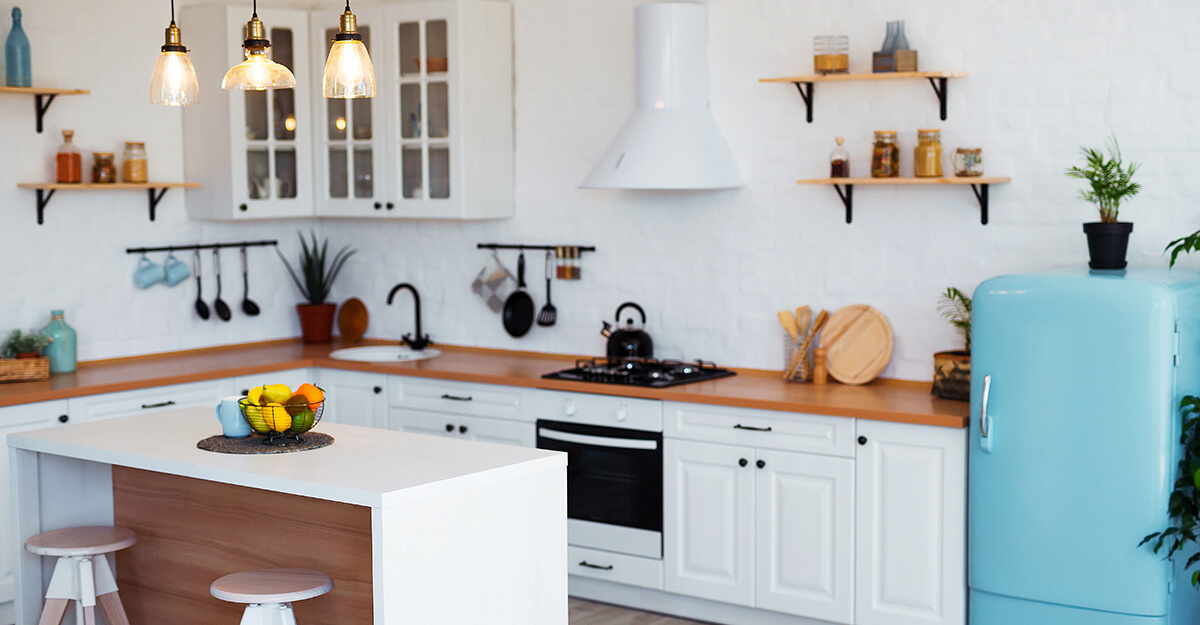 There is no better way to get your creativity flowing than to take time to search for inspiration. The internet is filled with thousands of sites that can give you a wealth of ideas on how you can decorate your kitchen. You can either opt for replicating your favourite design or take points from various options and put them together for your own unique space. Just some of the many interior design websites that you can use for kitchen inspiration are:
Alternatively, if you are interested in kitchen extensions in Buckingham and the surrounding areas, why not head over to our case study page to browse through our project portfolio? From gorgeous rustic wooden interior designs to super modern kitchens, you are guaranteed to find a wealth of inspiration. We particularly love the stunning kitchen extension we completed for Mr Davis, who contacted us for our expertise in open plan living in Milton Keynes. Find out more on his success story!
To create a space that you will adore for years to come, each room in your home must incorporate a touch of personality. While the most important aspects of your kitchen are that it is fully functional and practical, this most definitely doesn't mean that you cannot be creative. This means that once you have determined the colours that you like the most, you can then move onto choosing a theme. Now, if you only like particular trends, you do not have to fully commit to a theme. There is no harm in opting for a more neutral foundation but with small finishing touches that encompass your theme. Some of the most popular kitchen themes include:
Farmhouse – Based on the aesthetics of a rustic country cottage, the farmhouse theme features wooden flooring and worktops, accompanied by pastel colours and delicate crockery. More ideas can be found over on Country Living.
Scandinavian – For those who love all things modern, a Scandinavian-inspired kitchen would be a perfect choice. With a black and white canvas, accompanied by plants and pops of colour, this theme is guaranteed to create a bright and airy atmosphere.
Art Deco – Add a quirky twist to your kitchen with an art deco theme. From bold, colourful geometric shapes and intricate ornaments, this theme has the perfect balance between vintage style and modern concepts.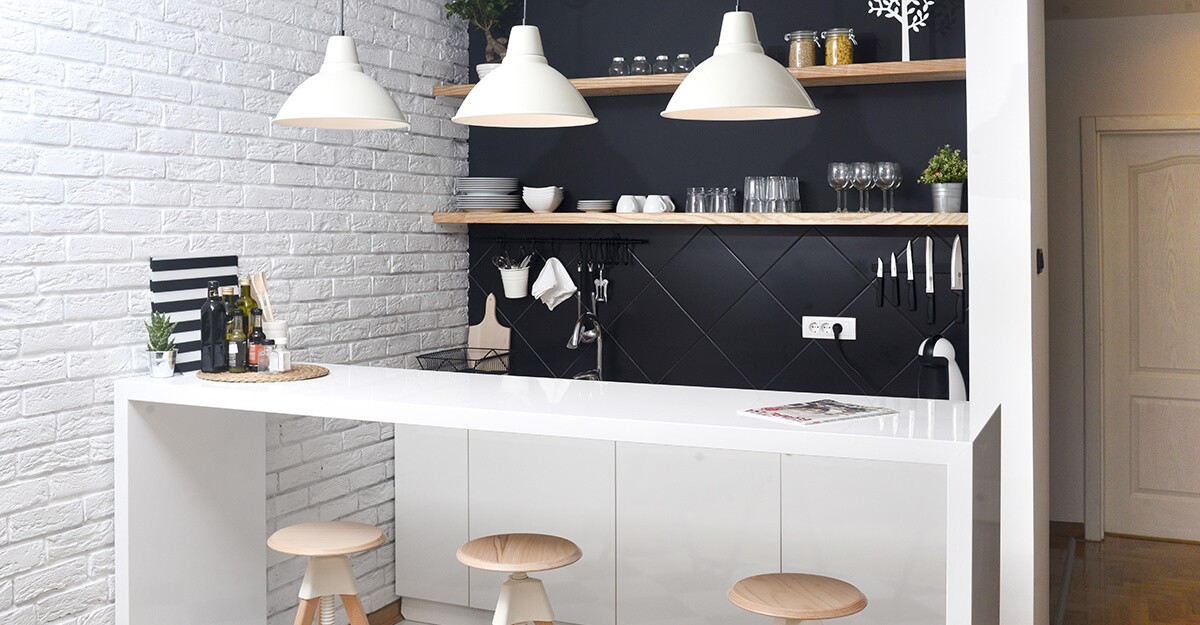 A contributing factor towards the final colour scheme of your kitchen that is often left unconsidered is the lighting. You would be surprised how much of an impact the lighting can have on the appearance of your chosen colours, and you may find that the shades change dramatically. For example, the more natural light that streams into your kitchen, the more accurate you will perceive the colours. Whereas, in the evening, when you switch on the artificial light, it is likely that they will look slightly darker, especially if you were to choose bulbs that have a slight hint of yellow.
To resolve this, we suggest testing the primary colours that you plan to use in your kitchen, those that you will use for walls, cabinets and flooring, for instance, underneath different lighting. Many homeowners opt for painting a small section of their room in their chosen shade and then check up on its appearance throughout the day. If you find that the colour looks excellent during the day in natural light but a little dull when night falls, then you may want to reconsider before committing.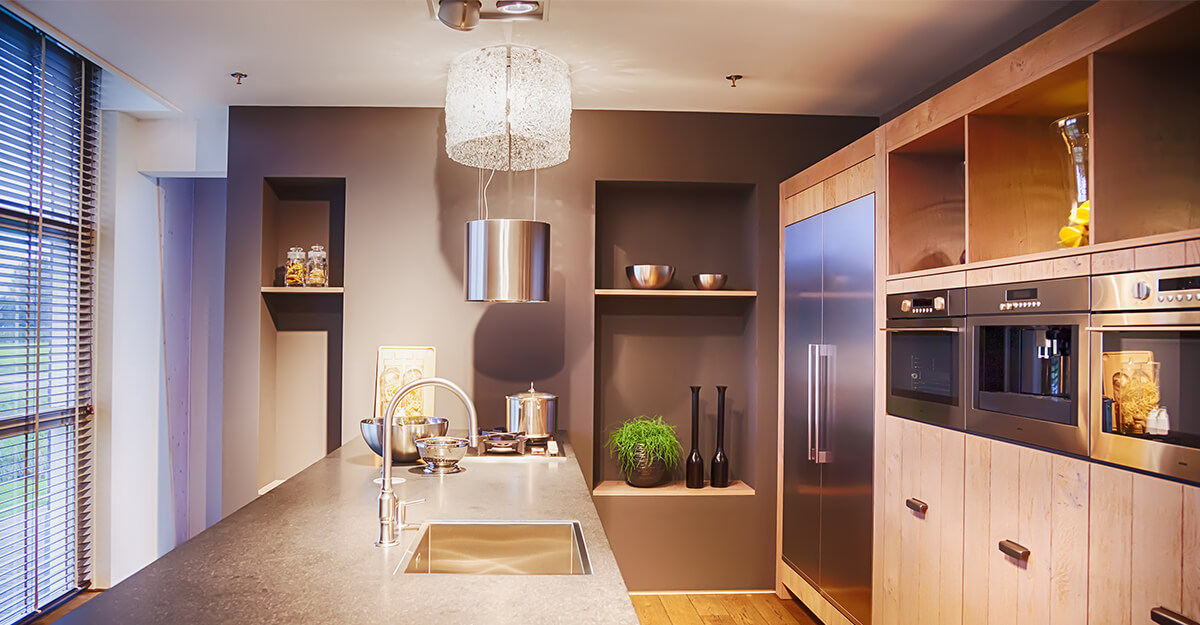 Having helped clients transform their homes for many years, our team are well versed in designing and bringing to life stunning features from kitchens to living rooms. If you are considering a house extension with a kitchen, then our previous projects are a great place to start finding your inspiration. We have designed and installed many kitchen extensions for our clients and are always happy to talk through our projects should you need more information or design advice.
Modern Kitchen Designs
When considering modern kitchen designs, the finish of your kitchen can have a significant impact on the design. Most modern kitchens will have a gloss finish, which is ideal for smaller kitchens to allow light to bounce off the cabinets for a brighter and bigger feel. Below is a project we completed for Mr and Mrs Rousseau in Milton Keynes, who chose a stunning light grey gloss unit and a complimentary white gloss worktop.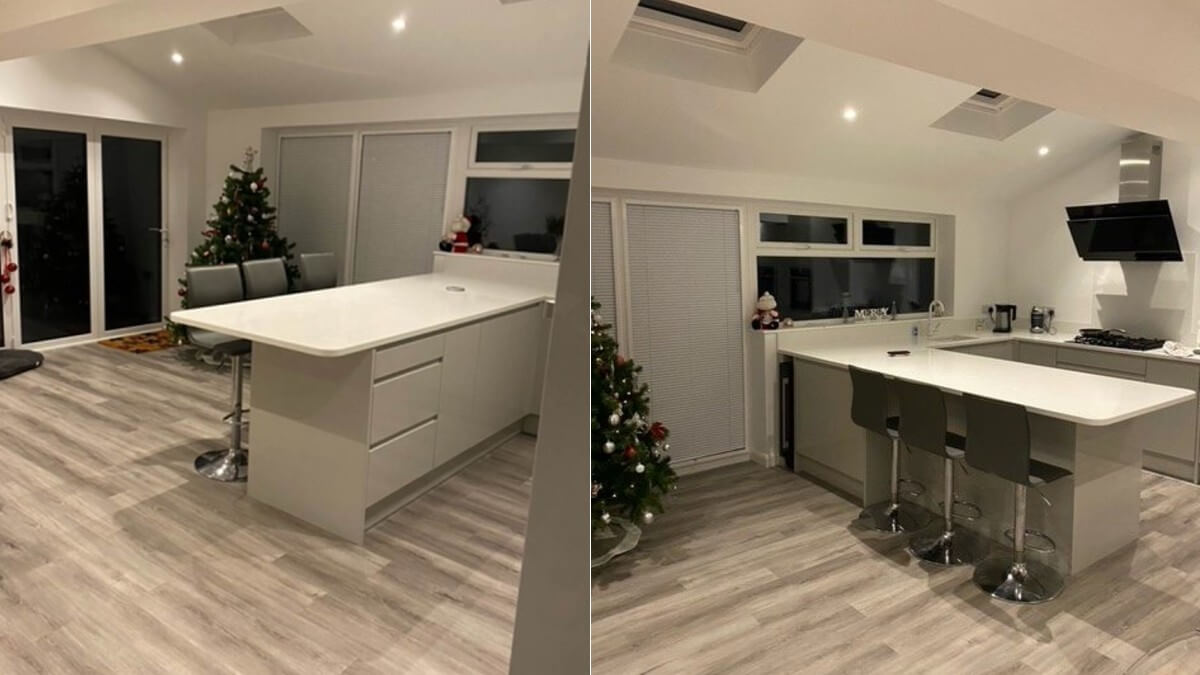 Cream Kitchen Colour Schemes
Our lovely client, Louise Mizen, decided to opt for stunning cream kitchen colour schemes with wood for a modern twist to a traditional design. The cream and wood provide a soft and subtle aesthetic that allows her beautiful Rousham extension to take centre stage. Chrome handles and a chrome tap were then integrated into the design to add elegance and chic style.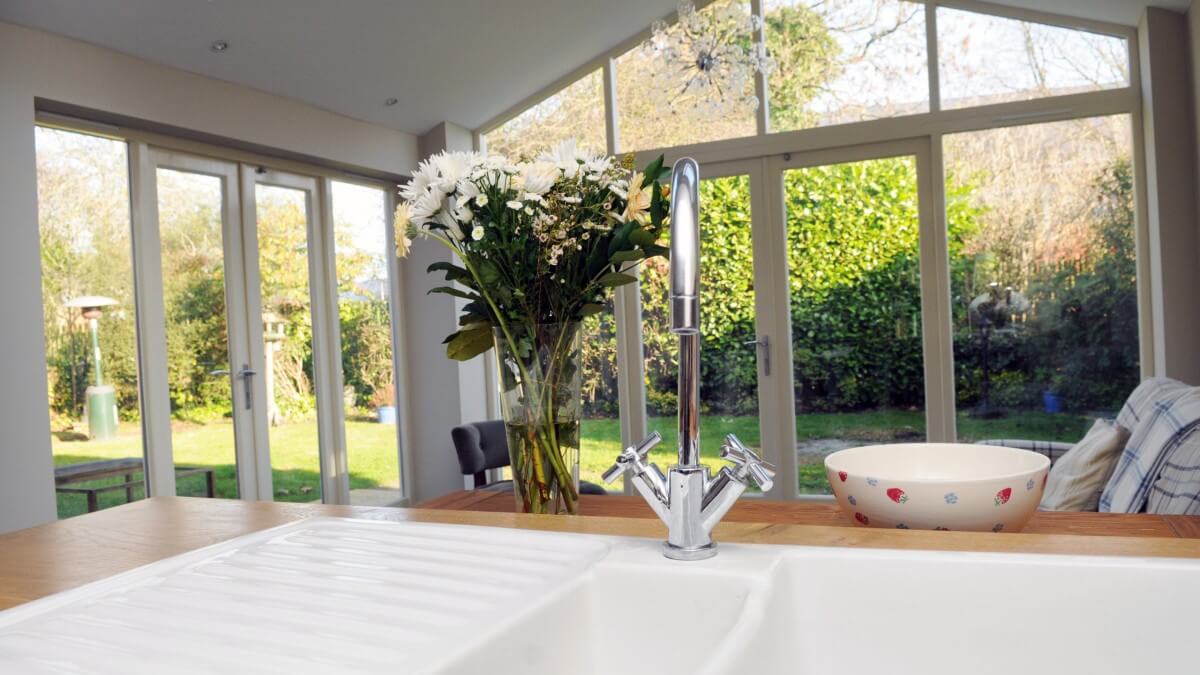 Open Plan Kitchen Ideas
One of, if not the most popular design for our clients is open plan living. This allows you to enjoy a kitchen, dining area and living space all in one to create a more spacious home. There are tons of open plan kitchen ideas that you can take into consideration, such as this stunning contemporary dark grey and white kitchen. The extension has been designed to provide optimal light into the home through the use of large windows and skylights, which highlights the kitchen and the glossy finish of the cabinets.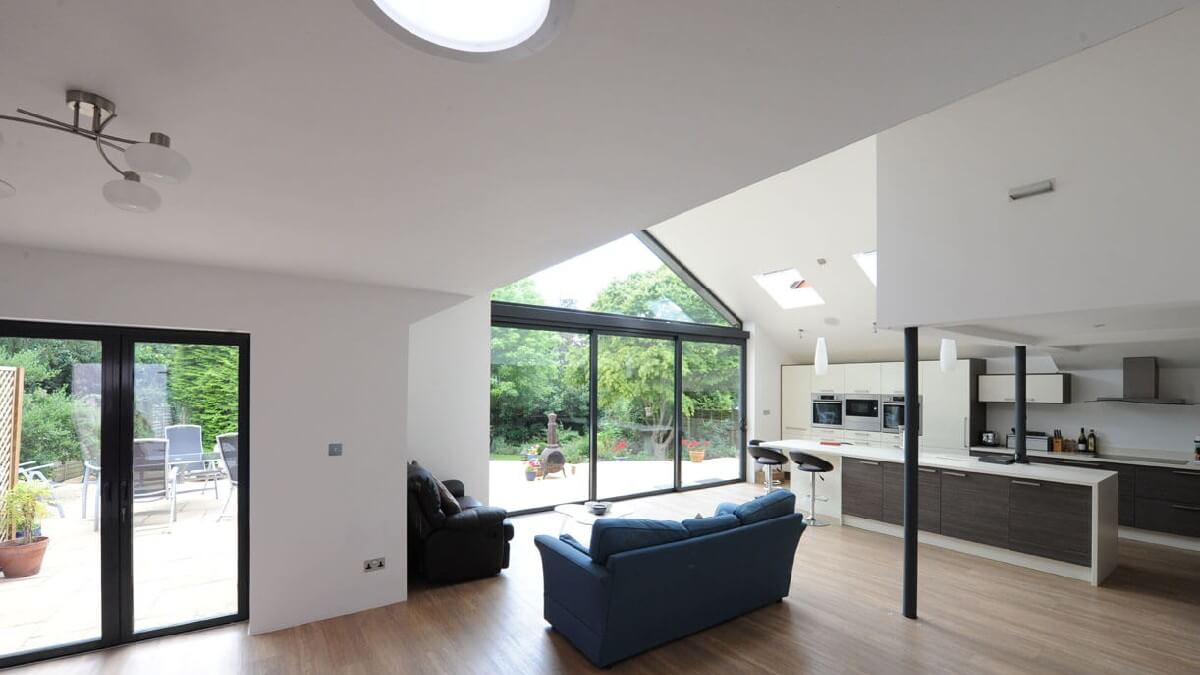 Kitchen Colour Schemes Black Worktop
If you are looking for glamourous addition to your home, then we highly recommend kitchen colour schemes with black worktop. Contrasting the elegance of the white cabinets with a striking dark worktop creates an abundance of drama. As you can see from the images below, although our client chose a dark worktop, the skylight brightens the space to create the perfect social hub.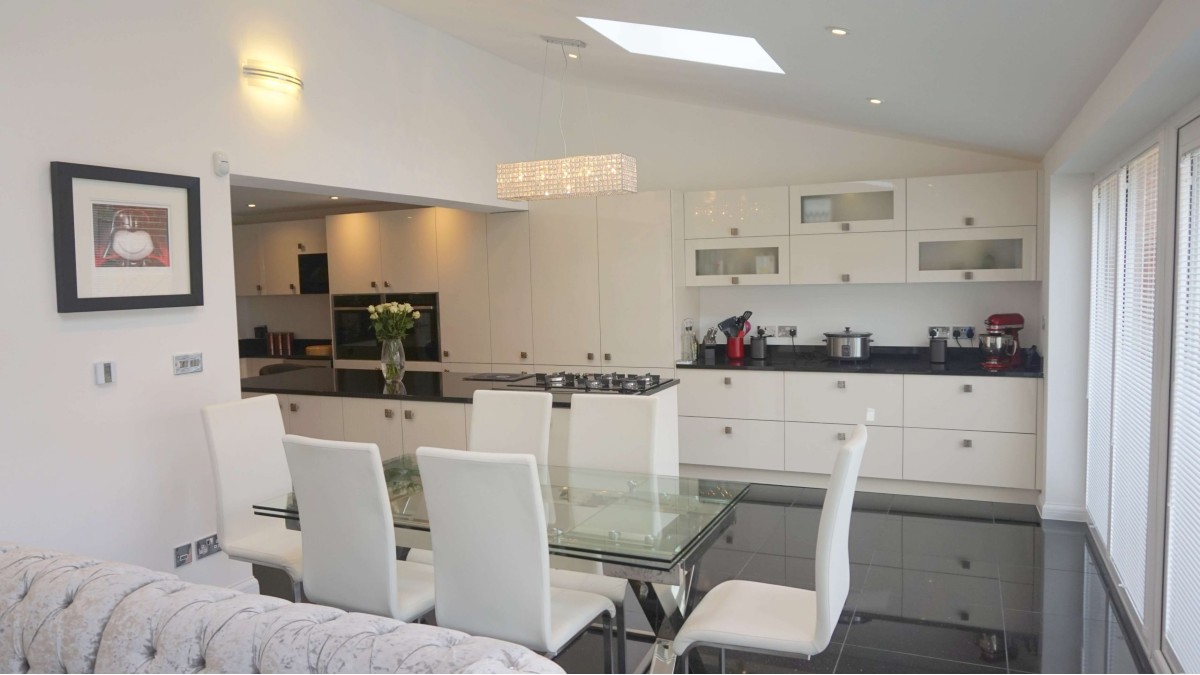 Bringing Your Vision to Life
Finding the perfect combination of colours for your kitchen is all about exploring all of your possibilities before making your decision. It will take a little research and experimentation, but it will most definitely be worth the extra time. By taking our top tips into consideration, you will find a scheme that is not only flattering for your space but also incorporates your personal style.
If you are interested in building a kitchen extension but not sure where to begin, why not take a look at our previous article? Alternatively, if you have decided that you want to start fresh with a brand new space, our team are always more than happy to help. As experts in home extensions in Aylesbury and the surrounding areas, we are committed to bringing your vision to life!