Creating the perfect spot for cooking, dining, socialising and more, a kitchen extension can completely transform your home. Unsurprisingly, it has remained one of the most popular renovation projects of the past decade and is most definitely a popular choice amongst our wonderful clients!
Over the years, we have been lucky enough to work on hundreds of house extensions in Milton Keynes and the surrounding areas, particularly those purpose-built to accommodate a new kitchen. So we thought we would share some of our favourite kitchen extension ideas to inspire your upcoming project.
Our Top Kitchen Extension Ideas!
Whether you are remodelling a new home or are outgrowing your current property, opting to extend comes alongside a wealth of benefits. From adding valuable living space and boasting value with the freedom to customise your new space to your vision, an extension is certainly a worthwhile investment.
By far, one of the most exciting, albeit a little daunting, aspects of any house renovation is the initial planning stages. With so many fantastic kitchen extension ideas to choose from, where do you possibly start? Get started by taking a look through our top suggestions!
Jump straight to:
Join Our Mailing List For More Ideas!
Limited space most definitely doesn't mean limited potential. There are hundreds of brilliant small kitchen extension ideas that will allow you to take full advantage of your space – clever illusions will be your best friend! Typically, a side return or rear extension is the most popular for those with a smaller space to work with, allowing you to make an existing room bigger rather than designing a new, separate area. Here are just some examples of how you can create a more spacious feel:
Maximise natural light: Consider installing a large roof light or bi-folding doors to your extension to create a bright, airy space.
Add a peninsula: An island can take up lots of valuable space, so why not add a peninsula instead? A peninsula still offers a convenient seating area with stools, storage and worktop space, but in a more compact form.
Consider a pitched roof: If you do not have tons of free space to extend out, keep the extension small but with a higher, pitched roof to make the room feel bigger.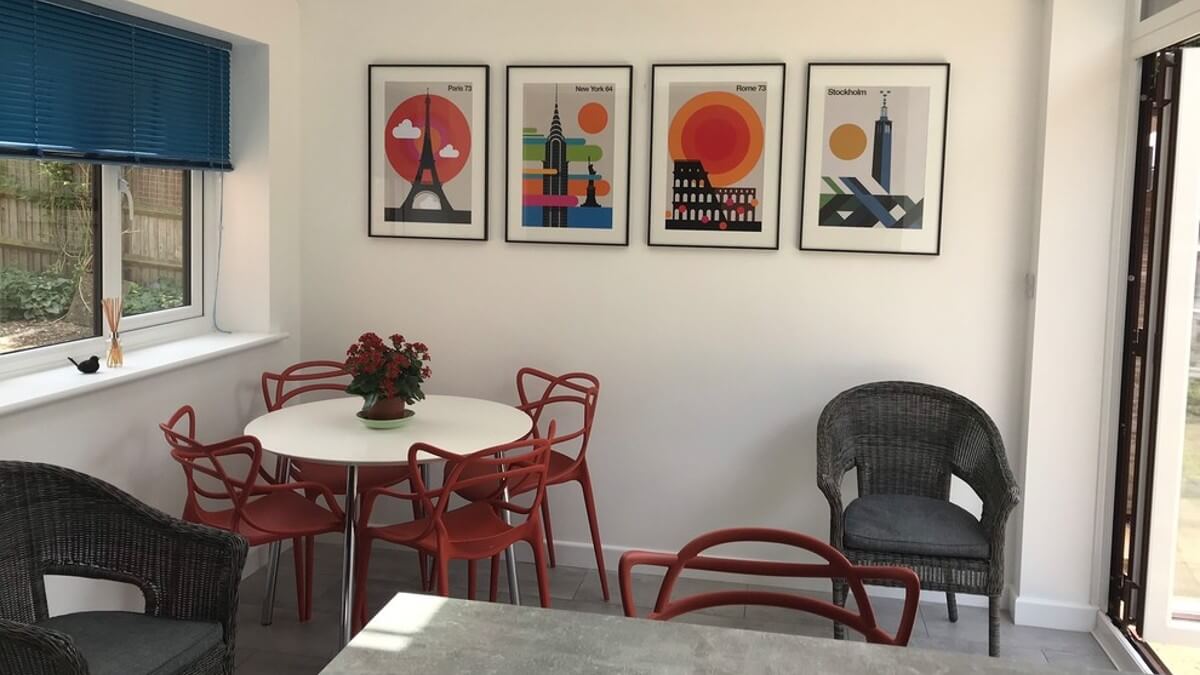 An open plan kitchen is a firm favourite amongst those hoping to achieve a modern aesthetic inside their home. And, we must admit, we love these types of projects at Oliver James Design & Build. In fact, we specialise in open plan living in Milton Keynes and the surrounding areas! It is a fantastic way to blend the practicality of a kitchen with the comfort of an entertainment room, helping to bring the family together. With this in mind, some of our top open plan kitchen extension ideas include:
Seamless transition into the garden: While on the theme of an open plan home, continuing this theme into your outdoor space is perfect for creating a seamless transition between home and garden. Consider swapping the outer wall of your extension with bi-folding doors then building up your garden so that the ground is flush with the flooring in your extension when open.
Increase storage to avoid clutter: Combining several rooms into one can make the space appear busy or overcrowded, so ensure that you incorporate plenty of storage to keep the area clutter-free.
Introduce subtle zoning: Introducing zoning will allow you to create defined purposes for each area, whether you do this through a change of lighting, flooring or even decor themes.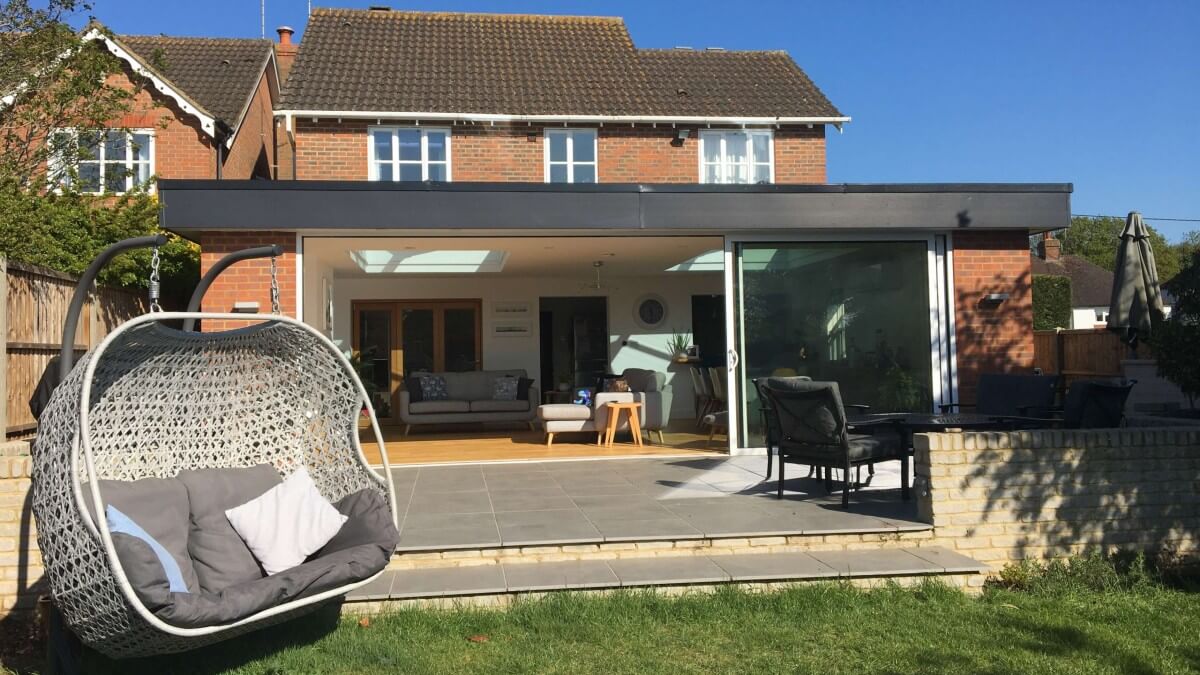 Much like a small kitchen, configuring a narrower space doesn't mean that you have to sacrifice the features you have in mind. The key will be to spend time measuring each component precisely so they slot effortlessly into one another. When designing your layout, we recommend keeping the following narrow kitchen extension ideas in mind:
Opt for an L-shaped kitchen: L-shaped units will be best suited in a narrow kitchen as they will allow plenty of cabinet and worktop space while still leaving a wall free for a small dining table.
Add larder units and pantries: Make the most out of every inch of your kitchen by adding pull-out larders or hidden pantries in unused areas, whether this may be between cabinets or inside the peninsula.
Incorporate bay-style seating: If your kitchen is too narrow for a dining table, why not place a bench seat underneath a window for a cosy spot to relax while cooking? Take a look at Homes & Garden for a host of design tips.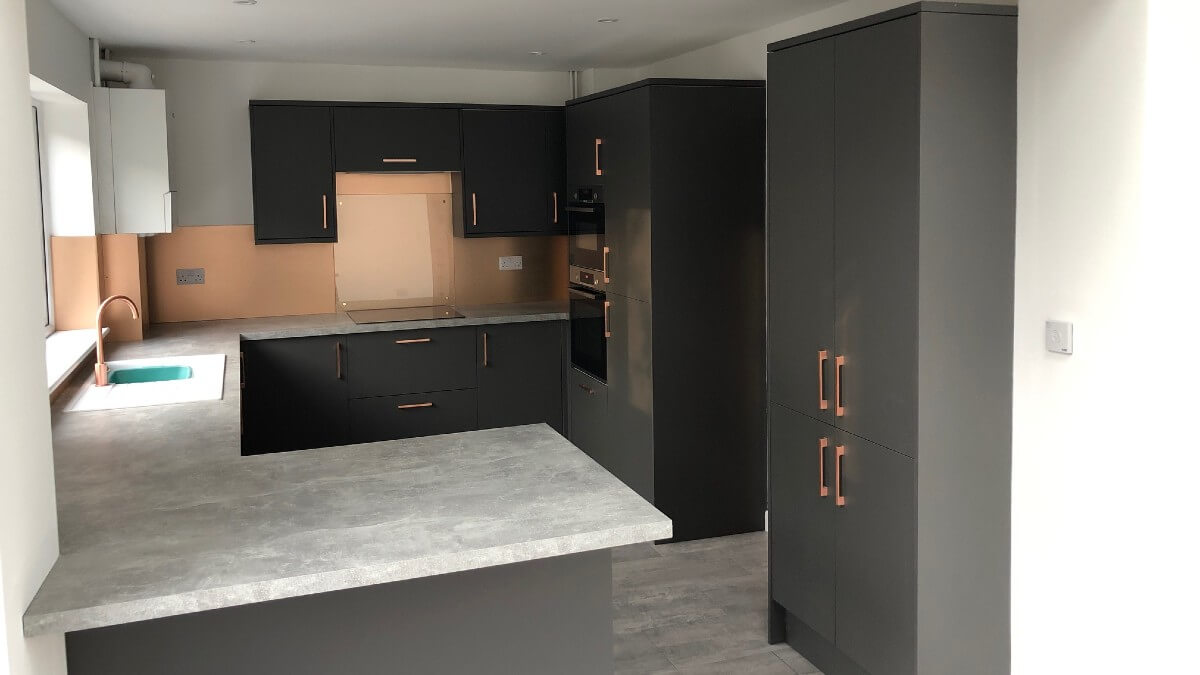 If you love the bright, airy, and open atmosphere of a conservatory and want your new space to feel like an extension of your home, an orangery would be the perfect solution. Focusing mainly on the use of glazing, an orangery makes your home, extension and garden all flow as one, ideal if you love to entertain! So without further ado, let's take a look at these fantastic kitchen orangery extension ideas:
Add a statement roof lantern: A staple feature of a traditional orangery is a roof lantern, which allows a constant stream of natural light. Many of our clients designing their house extensions in Olney or other areas we cover work closely with our team to create a bespoke roof lantern. Take a look at Mr and Mrs Roberts' project for a beautiful example!
Break up the space with an island: Placing your island directly underneath the roof lantern creates a fabulous focal point for your space, especially if you incorporate seating into your island.
Bring the outdoors in: Historically, orangeries were used to house tropical plants, so why not continue this theme by adding a pop of colour to your kitchen extension through plants and flowers?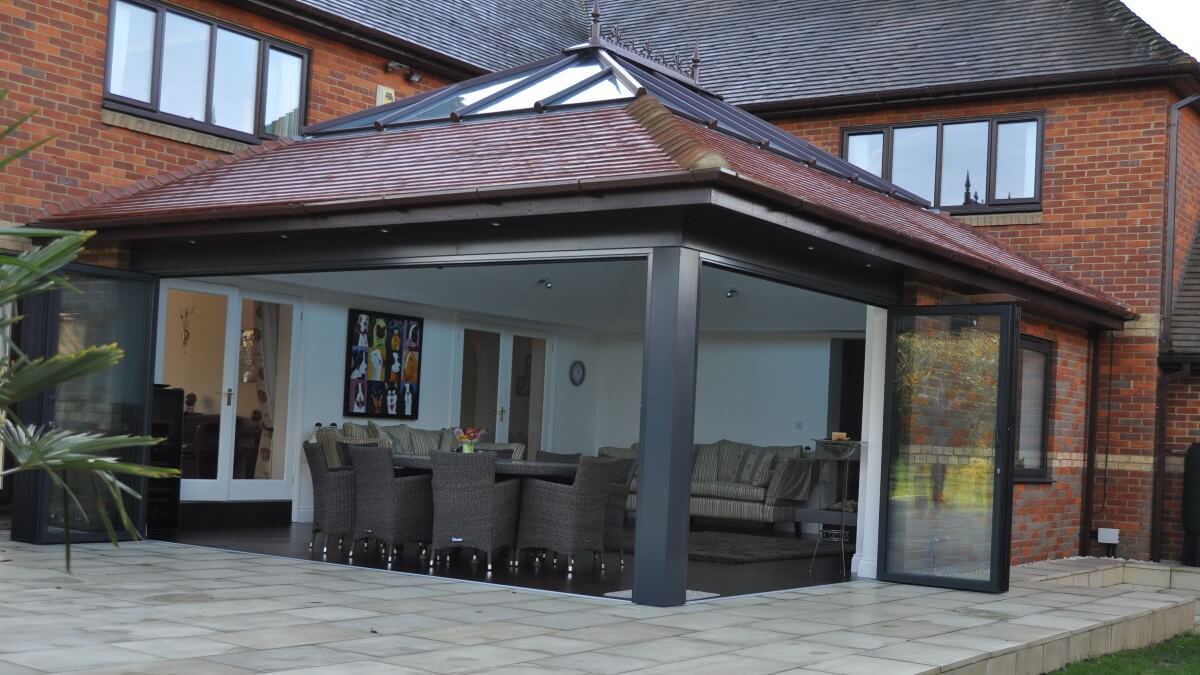 There are many great options available when opting to extend your semi-detached house, none of which cause any disruption to your adjoining neighbour's property. In most cases, there will also be no need to apply for planning permission, providing that the dimensions of the build fall within your permitted development rights. The following kitchen extension ideas for semi-detached houses can easily be designed without the need for planning permission.
Consider a two-storey extension: If you are using a side return to accommodate your extension, this is the perfect opportunity to maximise space by adding a second storey. A two-storey extension can not only allow you to increase your kitchen size but also create an extra bedroom with an ensuite, for example.
Or add a full-width extension: For those less keen on a two-storey build, a full-width extension is an excellent alternative. This can almost double the size of your ground floor and can extend slightly further on your detached side, offering extra space for a utility room or home office.
Add a garden transformation to your project: While building their extension, many of our clients add a garden transformation, such as installing a patio to match the structure.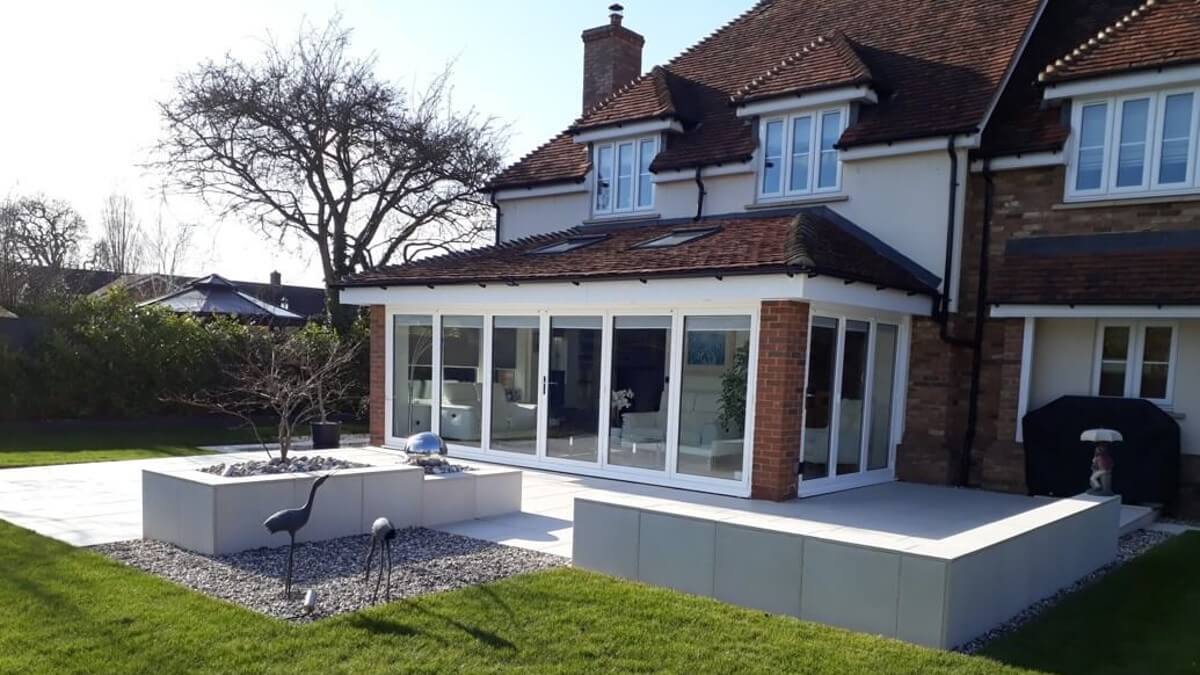 While renovation possibilities may be a little more limited on a terraced house, it most definitely doesn't mean that you cannot maximise living space through an extension. The timeless design of terraced houses allows you to experiment with different design concepts to create a unique property catering to your requirements. Find out more with our terraced house kitchen extension ideas:
Opt for a rear extension: A rear extension is typically the only feasible option on a terraced home, yet is perfect for creating a larger, more spacious kitchen area. You will have the freedom to play around with quirky ideas, designing a space that you can truly call your own.
Blend old aesthetics with new: Many terraced houses have a traditional, Victorian-style appearance, so consider making a statement by adding a more contemporary look extension. Steel frame extensions are a popular choice that can then be rendered in the colour of your choice.
Incorporate sliding doors: Sliding doors are, by far, the most requested styles for a terraced kitchen extension. They allow you to fully open up your kitchen, perfect for the summer months when entertaining guests.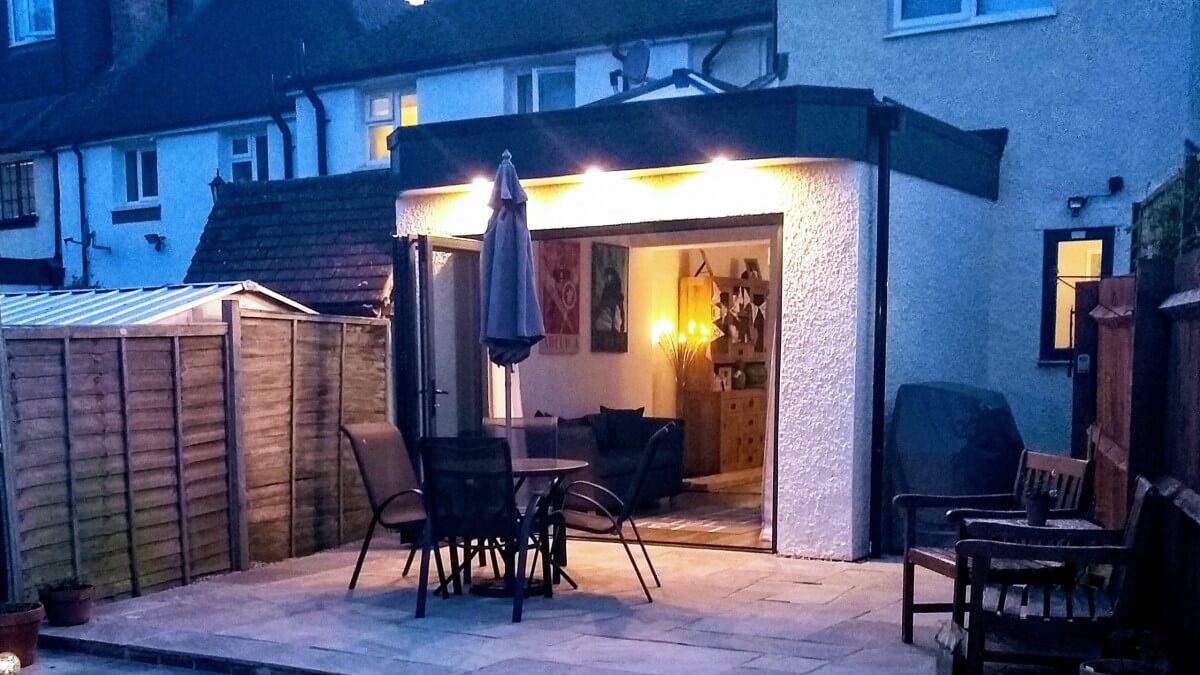 A bungalow has so much potential, and as most are detached, it couldn't be easier to customise your home to fit your vision. They are the perfect property type for young families, homeowners with mobility requirements and more, making them a super popular option. So if you are lucky enough to own a single-storey home, take a look at these excellent bungalow kitchen extension ideas:
Design an L-shaped extension: An L-shaped extension is perfect for a bungalow, particularly for those hoping to increase living space dramatically. Not only will this accommodate a spacious, open plan kitchen which will become the heart of the home, but also additional bedrooms, a playroom and more.
Use the opportunity to remodel: The layout of a bungalow must flow, typically with bedrooms or quiet zones such as a home office at the other side of the home from social areas like the kitchen. During your extension, why not take this opportunity to consider whether your bungalow would benefit from a remodel, for example, making the kitchen and lounge open plan.
Raise the ceiling for a more spacious feel: Bungalows can sometimes feel a little dark inside, so consider raising the ceiling and adding full-length windows to brighten the interior when designing your kitchen extension.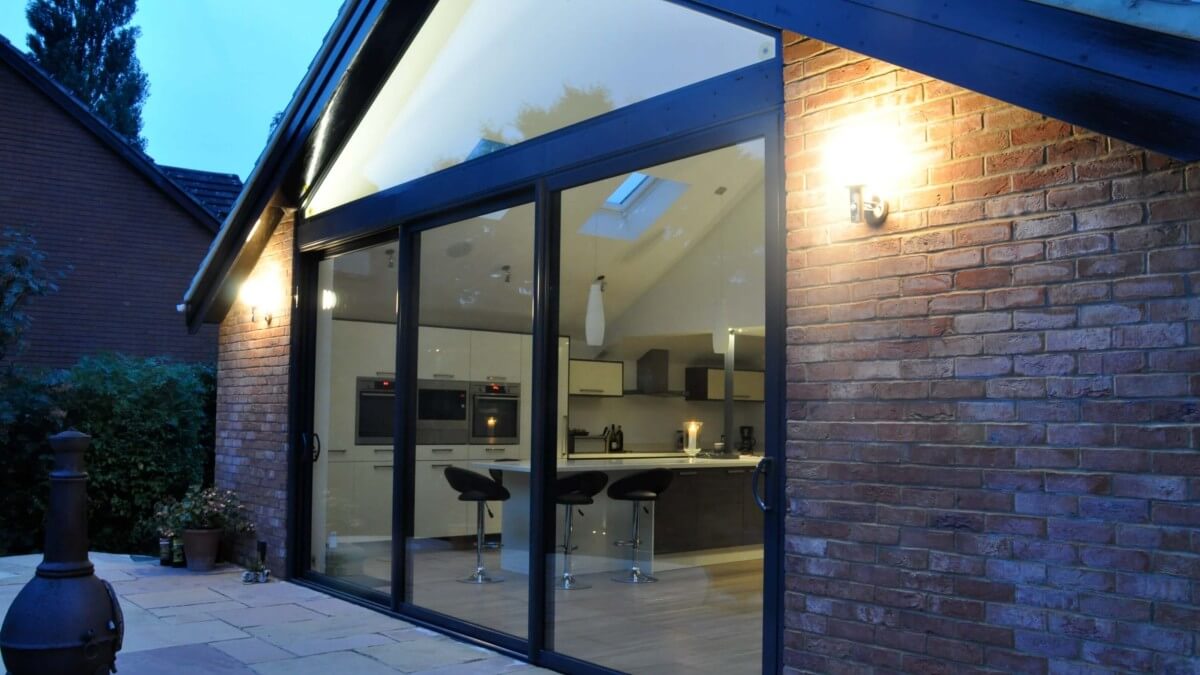 The roof of your extension is likely to take the most significant consideration, but you'll be pleased to know that there are many options to choose from, all of which can easily be customised to your vision. Our top kitchen extension roof ideas include the following:
Flat roof kitchen extension: A flat roof extension is one of the most popular amongst our clients as it allows the space to feel as if it was an original feature of the home. A conventional ceiling can be plastered to allow for light fixtures to be installed.
Pitched roof kitchen extension: As mentioned previously, a pitched roof extension is ideal for those who want their space to feel brighter and bigger. It is an excellent option for those extending at the side return of their home as it allows you to make the most out of all of your free space.
Lantern roof kitchen extension: If your new kitchen will become the focal point of your home, a lantern roof is a wonderful option. These can be created bespoke to your project, whether you replace the entire roof with glazing or just a small percentage.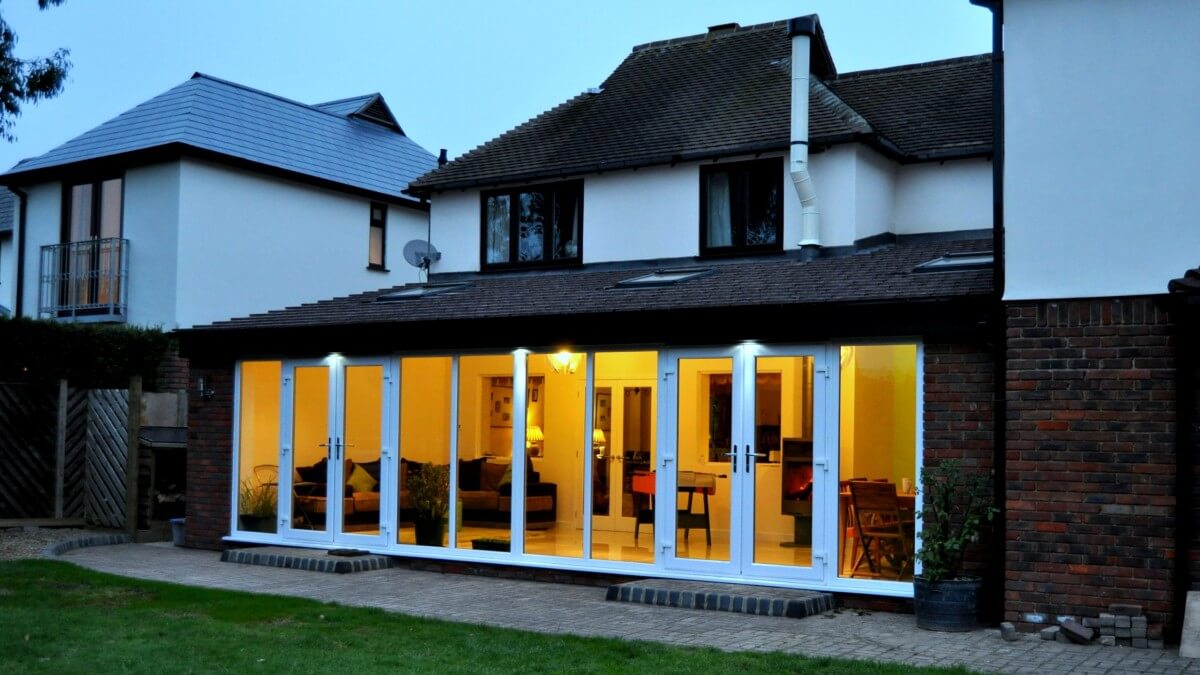 Transform Your Home With Our Kitchen Extension Ideas UK!
The above kitchen extension ideas offer just some of the thousands of ways that you can transform your home and add a touch of personality to your project, ensuring that the end product is the perfect balance of style and functionality. Our team work closely with our clients to ensure that their kitchen extension is everything they envisioned and, along with the design and build, can also cover aspects such as plumbing and electrics. If you would like to know more about how we can help, please do not hesitate to get in touch to schedule a survey!
Ready To Get Started?
Begin bringing your vision to life with our skilled team.
Get Started