If you want to increase your living space without the hassle of moving and parting from your beloved home but don't want to sacrifice any garden space, a side return extension may be the perfect option for you. Many detached and semi-detached homes have unused space on one or both sides, which can be utilised to increase square footage. But what do you do with the extra space? How much will this all cost? Our handy guide to side return extensions is here to help with ideas on how to make the most of the new space and the answers to the most common questions people ask about this type of home renovation.
Our Guide To Side Return Extensions
Our talented team has many years of experience completing house extensions in Milton Keynes and the surrounding areas. Many of these have been side return extensions, so we wanted to share a few things we've learned over the years, from the best ways to use your side extension to some practical details. If you are interested in our design and build services, why not get in touch with our team to discuss your project ideas?
Subscribe To Our Mailing List For Project Inspiration!
A side return extension is a method of extending the home using space available at the side of the property. This type of extension is so popular because it enables homeowners to enlarge their property without having to sacrifice any garden space. It is also possible for both detached and semi-detached houses without affecting neighbouring homes.
Side return extensions can be either single-storey or double-storey, each option having its benefits and disadvantages. While a single-storey extension offers you the opportunity to install roof windows to illuminate your space, a double-storey extension costs less per square foot of space. Ultimately, it is up to you to decide which kind of side return extension you would prefer for your home; these are the types of topics we would cover during our initial consultation with you.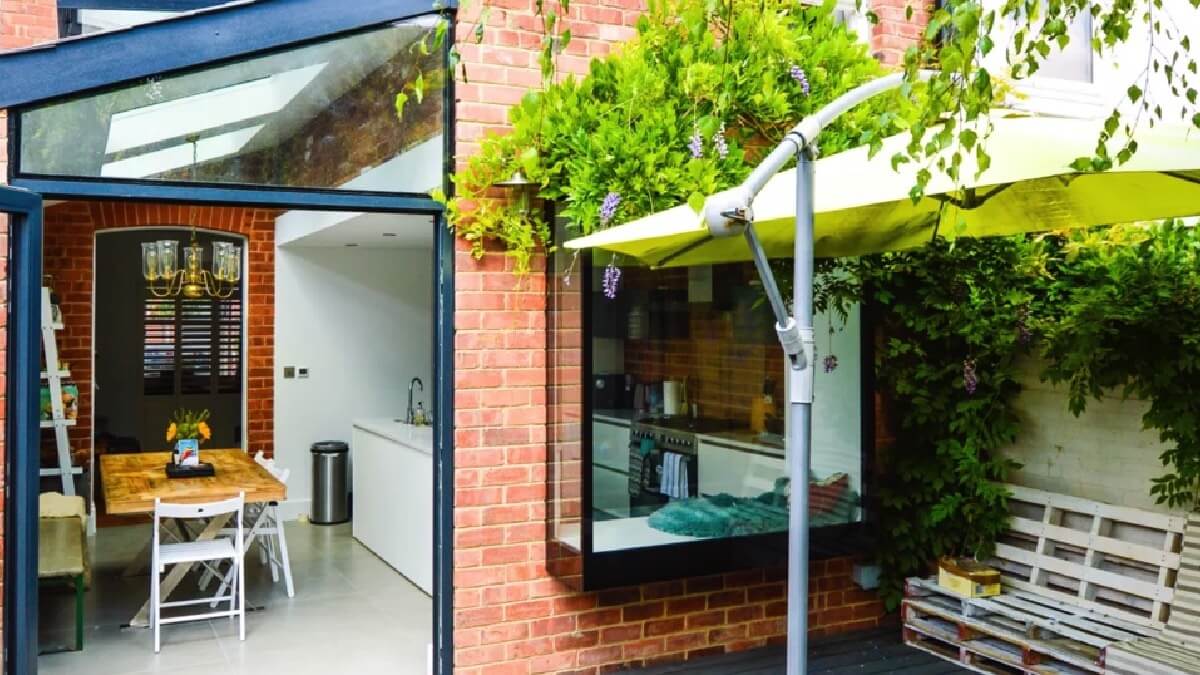 Image Credit: Real Homes
Here are our favourite side return extension ideas, allowing you to make the most out of your wonderful new space:
Kitchen Diner Extension
One popular reason why clients request a side return extension is that they would like to transform their existing kitchen into a spacious kitchen diner. If your kitchen is already situated adjacent to the side of your home that you would like the extension on, this is the perfect option for you. There are many benefits to a kitchen diner, including the following:
It keeps all cooking and dining in one space, increasing practicality
It makes for a more open, comfortable space for family and friends to gather in and enjoy
It enables you to incorporate a proper dining room into your home where you previously may not have had the space to do so
These benefits of a kitchen diner extension allow you to get the most out of your home without the hassle of moving. They promote the gathering and bonding of family in the space, making it the heart of the home and helping you create many precious memories. Moreover, when the kitchen and dining area share the same space, hosting dinner parties becomes far more enjoyable, as you will not have to disappear into the next room every 15 minutes!
If you are interested in our kitchen extensions in Milton Keynes and the surrounding areas, please feel free to get in touch with our team to start discussing your home transformation!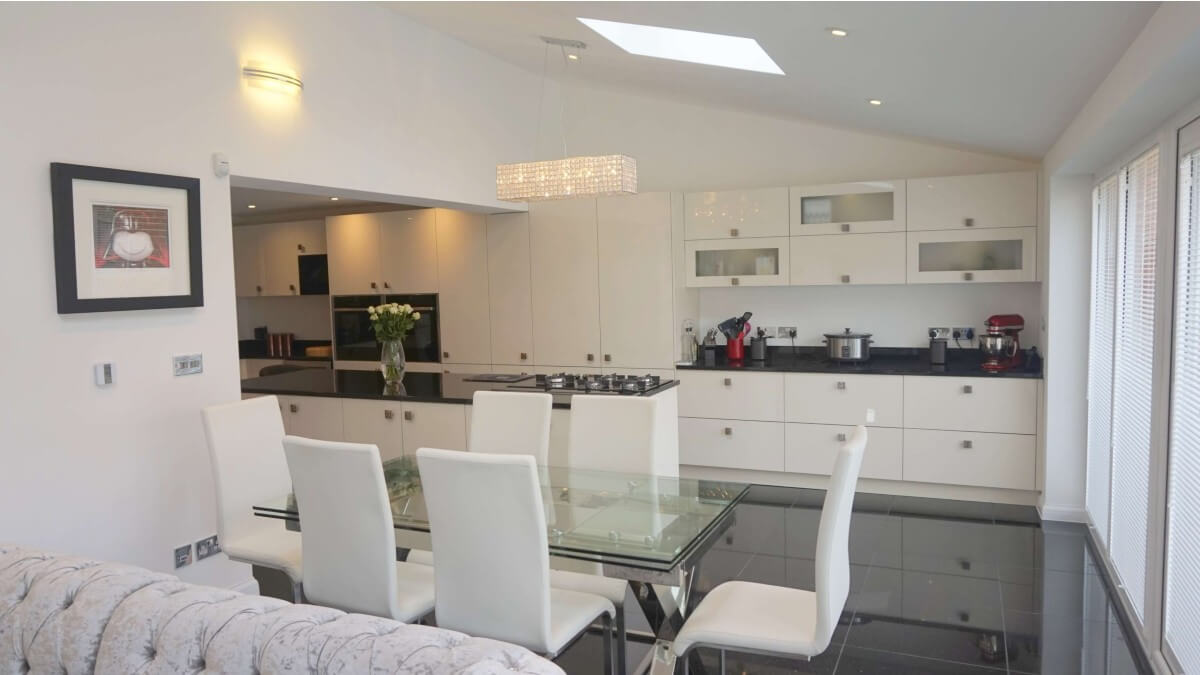 Oliver James Project – Kew Style Room Kitchen Extension
Roof Light Windows
When a side return extension is built, windows are removed, and the ceiling is extended, letting less natural light into the space relative to square footage. In order to prevent your extended space from feeling dark and dingy, we recommend having roof light windows installed with your extension. This will help illuminate the area, making it feel more open and pleasant. Our wonderful team proudly partner with Keylite, who provides us with roof light windows that are elegant, highly functional, and incredibly durable. Keylite windows open outward, allowing you to ventilate your home with ease, on top of bringing natural light into your home.
There are several different kinds of windows that you can have installed on the roof of your home extension. Theses are as follows:
Flat roof windows – this type of roof window lays on the same plane as the rest of the roof for a simplistic, seamless design.
Roof lanterns – these installations project upwards to create the illusion of a brighter, more open space. They are the perfect addition to a home with a contemporary aesthetic.
Domed windows – these windows are perfect for adding dimension to a roof design for a more complex, elegant look.
Our windows come in a variety of colours with a very high impact strength to ensure that they suit the aesthetic of your home and last for a long time. You can get in touch with our team if you would like to discuss the best roof light windows for your home.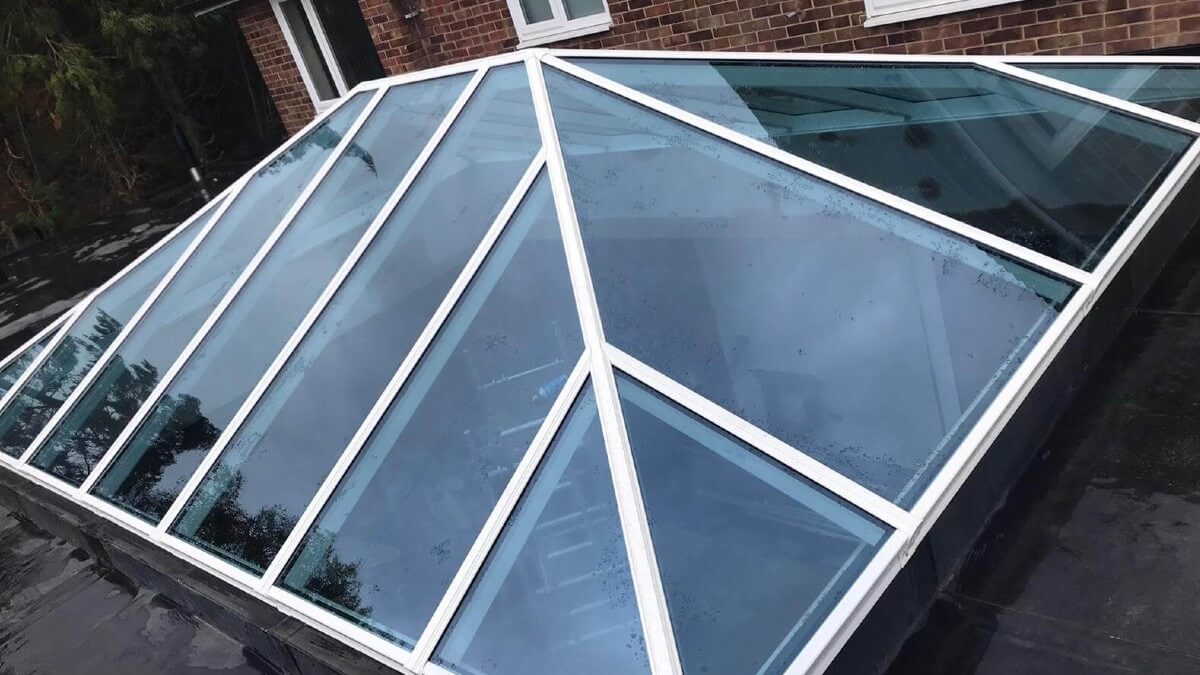 Open Plan Extension
The space available to incorporate into a side return extension is often minimal, meaning that it is best to extend an existing room rather than create an entirely new one to avoid your space feeling claustrophobic. For example, you may choose to create a kitchen diner, keeping the original space as the cooking area and creating a dining area in the new space. This is an example of open plan living, where different areas are not divided into rooms by walls.
There are many benefits of an open plan living space that you may want to consider when designing the layout of your side return extension. For tips on creating an open plan layout that works for the whole family, Homebuilding & Renovating has the perfect article. If you are interested in creating an unobstructed space in your extension and or the rest of your home, please feel free to contact our team about our open plan living in Milton Keynes.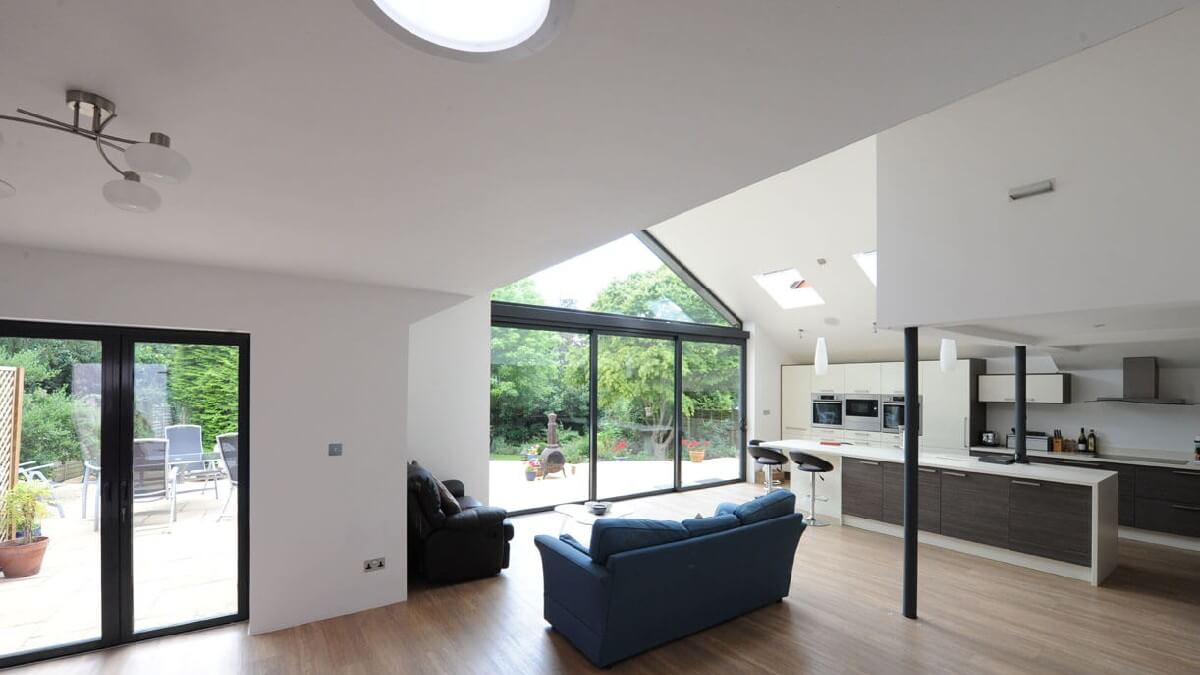 Side Return Extension Decor
With a side return extension, you move the windows of the house further from the innermost parts of the space, which can leave these areas looking dark and dingy. This is why it's so important to consider how you can keep the space properly illuminated. Besides installing roof windows, as previously mentioned, you can also keep your space light, bright and comfortable using clever decor. Here are some of our favourite ideas:
Mirrors – a clever way to optimise the natural light coming into your space is to install mirrors to bounce the light around the room, making it seem bigger and brighter. IKEA offers a large selection of decorative mirrors to do this with.
Light colour scheme – light colours reflect light more efficiently than darker ones, so we recommend sticking to a predominantly light colour scheme to keep the space feeling bright and airy. Whites, greys, creams and pastels are perfect for this. Check out this Pinterest board for some light colour scheme inspiration.
Warm wood accents – keep your space feeling warm and comforting with some natural wood elements in your furniture or decor. Doing this will bring a soothing touch of nature into your home, elevating its aesthetic. Take a look at this article by New In Homes for some inspiration on how to do this.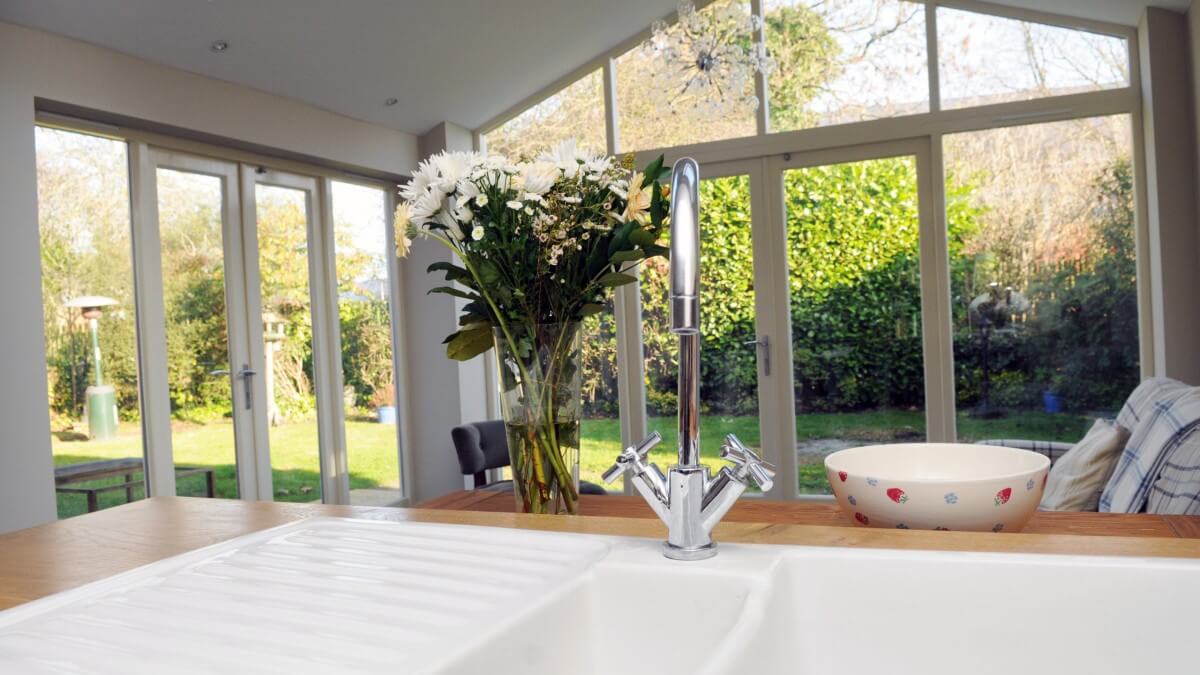 Here are the answers to some commonly asked questions about side return extensions:
Do I Need An Architect For A Side Return Extension?
It is not a legal requirement to hire an architect to help you with your side return extension. However, having an architect to assist you in planning the design of your extension can be invaluable. At Oliver James, we can provide you with a fully qualified architect who regularly works with our team on our home extensions in Milton Keynes. Their expertise will help you get the most out of your home extension without the need for the extra fees that come with hiring an independent architect.
What Is The Cost Of A Side Return Extension?
Real Homes estimates that the average costs of a single-storey side return extension in the UK are as follows, based on the quality of the finish:
For a basic quality finish: between £1,500 and £1,900 per square metre
For a good quality finish: between £1,900 and £2,200 per square metre
For a very good quality finish: between £2,200 and £2,400 per square metre
While the cost of a double-storey side return extension will be more overall than the cost of a single-storey one, it will cost less per square metre, making it more cost-effective.
Can I Have A Side Return Without Knocking Through?
You do not have to have walls completely knocked through when building your side return extension, as you can simply create doorways in the walls instead. However, we do recommend completely knocking through because the additional space offered by a side extension is usually not extensive, and you risk creating small, poorly lit rooms without doing so. By knocking through, you can create an open plan living space that is spacious and allows plenty of natural light in. If you decide to employ the help of our team for your home extension in Milton Keynes, our structural engineer will advise on the necessary supports when knocking through walls to preserve the structural integrity of your home.
Maximise The Potential Of Your Home
We hope that our article has helped to inform you on side return extensions, from what they are to tips on designing your perfect space. If you're ready to take advantage of unwanted space and extend your home, please feel free to get in touch with our team about our side return home extensions in Milton Keynes or one of the surrounding areas. With many years of experience under our belts, we are more than equipped to deliver results that exceed your expectations. If you're thinking about a side return kitchen extension, why not check out our previous article for some ideas?
Have A New Project In Mind?
Get in touch with our team to start planning!
Get Started