100 selection boxes were recently sent to MK Food Bank by kitchen and home extension specialists, Oliver James. Supporting MK Food Bank in providing food to those living on the edge of poverty is something that Oliver James wanted to focus on this Christmas. Helping families across Milton Keynes that are in desperate need of essential goods and necessities, helps to support these families over a time of joy and celebration.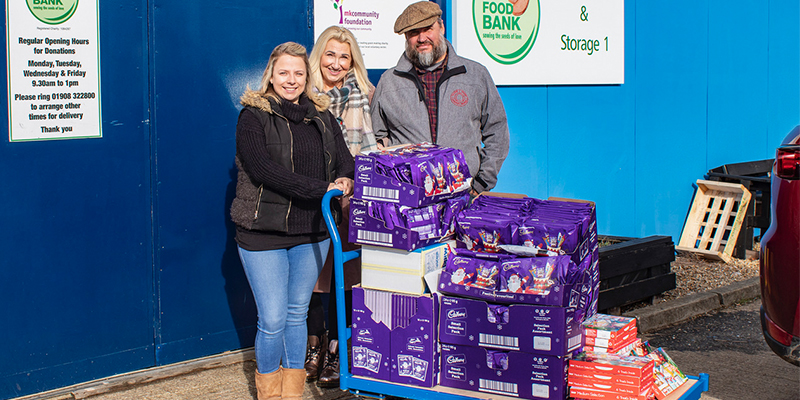 Supporting the Community
MK Food Bank supports families in desperate need of essential goods such as milk, vegetables, bread and sanitary products. The Food Bank relies on donations from a variety of different organisations, schools and individuals, along with volunteer work from the local area to help in the food warehouse.
Goods that are given to MK Food Bank help to provide families that are living in poverty by issuing them a voucher that allows them to collect a food parcel from designated areas around the city. Every donation to MK Food Bank impacts the lives of those that are unable to access food and feed their family. Although it is important to donate to the Food Bank all year round, it is especially important during the colder months when vitamins C and A can help to fight illnesses.
Secret Santa with Oliver James
After hearing the MK Food Bank were in need of 500 advent calendars and 500 selection boxes, Oliver James decided to go chocolate shopping and make a large contribution to help start the campaign. All 100 selection boxes donated by Oliver James to MK Food Bank contained a variety of different Christmas chocolate treats to spread the festive spirit. The selection boxes were gifted as an early secret Santa present from Oliver James in support of the excellent work that MK Food Bank offers.
Oliver James believes that everyone deserves to have a smile on their face this Christmas, so decided to make a contribution to a local charity to support their community. Dropping off 100 selection boxes to MK Food Bank is Oliver James' way of spreading Christmas joy and giving back to the wider community.
Spreading the Christmas Spirit
James and Carrie King, Directors of Oliver James, wanted to give a Christmas message:
"Christmas is all about giving and enjoying the happiness of those around you through the shared enjoyment of festive treats. We really wanted to make sure that every family had the opportunity to enjoy the Christmas period by helping MK Food Bank with their mission to receive 500 selection boxes. We hope that our 100 selection boxes and chocolate goodies go down a treat with families collecting from the Food Bank this Christmas. Every selection makes a difference, so we ask for people to spread the Christmas spirit by donating anything they can to help support families that need it the most."
Making Everyone's Christmas
You can add to Oliver James' donation towards the 500 selection boxes by raising money for MK Food Bank and giving families a Christmas treat over the festive season. To make a donation, you can visit the MK Food Banks website for more information or drop off food at donation points across Milton Keynes. These donation points can be found in most Milton Keynes supermarkets, where you will find an official Food Bank collection bin. Make someone's Christmas special with your food donations and chocolate selection boxes.